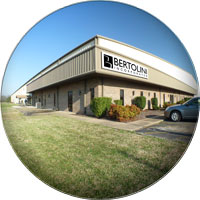 this continued partnership shows both Bertolini's and the County of Lawrence's commitment towards American workers and the creation of local jobs
Lawrenceburg, TN (PRWEB) April 01, 2016
Bertolini Incorporated is pleased to announce its plans to upscale its East Coast operations in its Lawrenceburg TN plant. "Through this upscaling process Bertolini is thrilled to continue partnering with the county of Lawrence TN in job creation", says Chuck Horn, Bertolini Inc. President, "this continued partnership shows both Bertolini's and the County of Lawrence's commitment towards American workers and the creation of local jobs".
Bertolini established a production footprint in their Lawrenceburg, Tennessee facility in 2009 primarily to produce stackable seating for churches and religious organizations. Since their online debut, the Lawrenceburg plant has successfully produced 90% of chairs that Bertolini delivered to churches and religious organizations located in the Northeast, Southeast and Midwest United States.
With the successful acquisition of key hospitality customers located in the eastern half of the United States, Bertolini is now expanding the capabilities of the Lawrenceburg plant to meet the banquet seating needs of these customers. The process of expanding the capabilities of the plant to meet these needs will require additional personnel to be hired and trained. Formalized training programs focused on Bertolini's current banquet chair offering are already underway; these include training in high-end upholstery skills, welding, metalworking and machine operation.
Upscaling the Lawrenceburg, TN plant will include installing additional equipment including a Star Bend CNC Bender, Pine Tube Benders, Punch Presses, a Doringer Cold Saw, a Multi-Spindle Drilling Unit, a Janda Spot Welding Unit, and other various fabrication equipment. These additional machines add the needed capabilities to successfully produce our most popular banquet chair models including the million-cycle-rated Everflex banquet chairs used by major hotel brands such as Hilton Worldwide and Marriott International. The upscaling of the Lawrenceburg plant is currently in process and expected to be completed in the 2nd quarter of 2016.
Bertolini Incorporated is the leading factory direct manufacturer of premium stackable seating provided to you through service, integrity and relationship. Their church chair division, Bertolini Sanctuary® Seating, is the number one choice for Church Seating.Their Hospitality Division, Bertolini Hospitality & Design, provides leading edge technologies in stackable banquet seating to the hotel and conference industries. The Bertolini family started building premium seating nearly 50 years ago for such household names as Denny's Restaurants, Radisson Hotels and Disneyland. Today Bertolini Inc. provides that same tradition of world-class quality in the most elegant, comfortable and durable stackable seating available. Combine such quality with a commitment to be the industry leader in innovation, unrivaled service, steadfast integrity, ongoing customer relationships and first class value, and it's easy to see why you'll find Bertolini stackable seating in such places as the Westin Bonaventure Hotel in Los Angeles, California, Without Walls International Ministries in Tampa, Florida, the Hyatt Regency in Deerfield, Illinois, the Seventh Day Adventist Conference Grounds in South Carolina, Skyline Wesleyan Church in San Diego, California, and the Sheraton Hotel in Brownsville, Texas.
Any individuals that wish to inquire regarding employment and being a part of this upscaling should contact Terry Einhorn, HR Liaison, at 931-829-2703 x105.
Inquiries should be directed to Gary Daniels, Director of Manufacturing, at 931-829-2703 x103