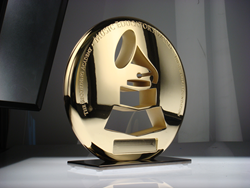 SANTA MONICA, Calif. (PRWEB) March 08, 2016
The fourth annual Music Educator Award™ nominations are now open through March 15, 2016 at GRAMMYMusicTeacher.com.
The prestigious award presented by The Recording Academy® and The GRAMMY Foundation® was established to recognize exceptional music educators throughout the country who have made a significant and lasting contribution to the field of music education and demonstrate a commitment to the broader cause of maintaining music education in the schools.
Nominated teachers will be notified and invited to fill out an application. The deadline for applications is March 31, 2016. The award is open to current U.S. music teachers, and anyone can nominate a teacher — students, parents, friends, colleagues, community members, school deans and administrators. Teachers are also able to nominate themselves.
One recipient will be selected from 10 finalists and will be recognized for his/her remarkable impact on students' lives. The winner will be flown to the host city of the GRAMMY Awards to be recognized during GRAMMY Week 2017. The winner will also attend the 59th Annual GRAMMY Awards ceremony, and a range of GRAMMY Foundation events. The nine additional finalists will receive a $1,000 honorarium, and the schools of all 10 finalists will receive matching grants. 15 semifinalists will each receive a $500 honorarium with matching school grants.
The honorariums and grants provided to the finalists and schools are made possible by the generosity and support of the GRAMMY Foundation's Education Champions: Converse, Disney Performing Arts, Ford Motor Company Fund and Journeys. In addition, the American Choral Directors Association, the National Association for Music Education, the NAMM Foundation and the National Education Association support this program through outreach to their constituencies.
# # #
Media Contacts:
Hannah Berryman/GRAMMY Foundation/ 310.581.8724/hannah.berryman(at)grammy(dot)com
Christina Cassidy/GRAMMY Foundation/310.581.8670/christina.cassidy(at)grammy(dot)com
Program Contact:
Derek Spencer/GRAMMY Foundation/310.581.1260/derek.spencer(at)grammy(dot)com
About The Recording Academy
Established in 1957, The Recording Academy is an organization of musicians, songwriters, producers, engineers and recording professionals dedicated to improving the cultural condition and quality of life for music and its makers. Internationally known for the GRAMMY Awards — the preeminent peer-recognized award for musical excellence and the most credible brand in music — The Recording Academy is responsible for groundbreaking professional development, cultural enrichment, advocacy, education and human services programs. The Academy continues to focus on its mission of recognizing musical excellence, advocating for the well-being of music makers and ensuring music remains an indelible part of our culture. For more information about The Academy, please visit http://www.grammy.com. For breaking news and exclusive content, follow @TheGRAMMYs on Twitter, "like" The GRAMMYs on Facebook, and join The GRAMMYs' social communities on Foursquare, GetGlue, Google +, Instagram, Pinterest, Tumblr and YouTube.
About the GRAMMY Foundation
The GRAMMY Foundation was established in 1988 to cultivate the understanding, appreciation and advancement of the contribution of recorded music to American culture. The Foundation accomplishes this mission through programs and activities that engage the music industry and cultural community as well as the general public. The Foundation works in partnership year-round with its founder, The Recording Academy, to bring national attention to important issues such as the value and impact of music and arts education and the urgency of preserving our rich cultural heritage. In recognition of the significant role of teachers in shaping their students' musical experiences, The Recording Academy and the GRAMMY Foundation partnered to present their first Music Educator Award in 2014. For more information about the Music Educator Award, please visit GRAMMYMusicTeacher.com. For more information about the Foundation, please visit http://www.grammyfoundation.org. For breaking news and exclusive content, please "like" "GRAMMY in the Schools®" on Facebook, follow the GRAMMY Foundation on Twitter (@GRAMMYFdn) and join us on Instagram (@GRAMMYFdn).
About Converse
Converse Inc., based in Boston is a wholly owned subsidiary of NIKE, Inc. Established in 1908, the Converse brand has built a reputation as "America's Original Sports Company"™ and has been associated with a rich heritage of legendary shoes such as the Chuck Taylor® All Star® shoe, the Jack Purcell® shoe and the One Star® shoe. Today, Converse offers a diverse portfolio including lifestyle men's, women's and children's footwear, apparel and accessories and is sold globally by retailers in over 160 countries. For more information, visit Media.Converse.com and follow @converse.
About Disney Performing Arts
Disney Performing Arts unlocks student potential and helps young people make their own dreams come true — whether it's performing in front of an international audience of thousands at Disney theme parks and resorts or honing their craft in enriching workshops and clinics taught by entertainment professionals. Every year, thousands of vocal, instrumental and other ensembles travel from around the world to participate in Disney Performing Arts programs at the Disneyland Resort in Southern California and the Walt Disney World Resort in Florida. Disney delivers workshops and performance opportunities that enrich, inspire and often lead to life-changing personal achievement.
About Ford Motor Company Fund
Ford Motor Company Fund and Community Services works with community and global partners to advance driving safety, education and community life. Ford Motor Company Fund has operated for more than 65 years with ongoing funding from Ford Motor Company. Ford Driving Skills for Life is free, interactive, hands-on safety training focused on skill development and driving techniques, while addressing inexperience, distractions and impaired driving. Innovation in education is encouraged through Ford Blue Oval Scholars, Ford Next Generation Learning and other inspiring programs that enhance high school learning and provide college scholarships and university grants. The Ford Volunteer Corps enlists more than 30,000 Ford employees and retirees each year to work on local projects that strengthen their communities and improve people's lives in more than 40 countries around the world. For more information, visit community.ford.com.
About Journeys
Journeys is a leader in the teen specialty retail scene, with more than 800 stores in all 50 states, Puerto Rico and Canada. Journeys uses fashion savvy and merchandising science to keep in step with the fast-paced footwear and accessories market for 13- to 22-year-old guys and girls. Journeys offers a wide variety of trendy, relevant brands that cater to teens that seek the hottest, new styles. However, the Journeys store is more than a retail environment — it's an extension of the teen lifestyle. From the plasma TVs playing exclusive content and the latest music videos, to the visual merchandising strategy and promotions, to the employees whose image and style reflect the customers' lifestyle and attitude. In addition to retail stores, Journeys reaches its customers through journeys.com, catalogs, social media and grass-roots events like the Warped Tour, Alternative Press Music Awards and national club-level music tours in the spring and fall seasons. Journeys — An Attitude You Can Wear! Journeys is a division of Genesco Inc.