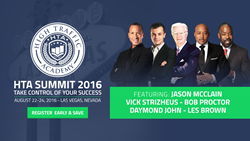 Jason and I are so excited to bring the wisdom of these three incredible speakers and businessmen to our HTA Family
Rancho Santa Margarita, CA (PRWEB) March 10, 2016
High Traffic Academy, LLC. (HTA), a platform providing video training and resources for those looking make money in the Internet marketing space, will host its second annual HTA Summit from the Las Vegas Convention Center in Las Vegas, NV, August 22-24.
Following a groundbreaking first year in 2015, HTA's Jason McClain and Vick Strizheus are upping the ante for 2016 by announcing guest speakers Daymond John, Les Brown and Bob Proctor as Guest Speakers.
"Jason and I are so excited to bring the wisdom of these three incredible speakers and businessmen to our HTA Family," Strizheus said. "Imagine being able to get specialized training from experts who would normally charge $25,000 or more for their expertise, and we're bringing that level of education to this years summit. It's going to raise the bar."
McClain agreed, noting that "we wanted to compete with ourselves, and outdo ourselves from last year, and adding Mr. John, Mr. Brown, and Mr. Proctor, just made this event 10 times better, bigger, and more awesome than ever before."
The event itself will utilize all 300,000 square feet of the Las Vegas Convention Center's North Hall, complete with a 'Lifestyle Lane' that allows attendees of the summit to get a glimpse of what it means to live life on their terms: to own their own house, drive their own Ferrari, vacation in their own RV's.
"Vision is so important to finding success as an entrepreneur," McClain said. " You have to be able to see the life you want; smell it, taste it, touch it, feel it. And we've got a variety of fun experiences lined up for our guests to bring home that point."
VIP seating and General Admission tickets are now available through htasummit.com, but prices are slated to increase closer to the event so be sure to reserve your spot today!
ABOUT HIGH TRAFFIC ACADEMY: High Traffic Academy is a high-end Internet marketing education and publishing company blending industry expertise with ongoing research and testing to teach aspiring entrepreneurs how to make money online from anywhere in the world. Through its step-by-step video guided approach, High Traffic Academy's industry-leading model provides a platform for its different programs covering various inbound marketing and business topics. Founded in 2011 and headquartered in Rancho Santa Margarita, Calif., High Traffic Academy is a category leader with national operations throughout the United States. For more information, visit http://www.hightrafficacademy.com.
###