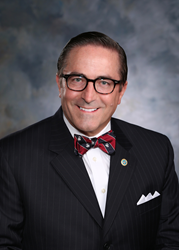 EXETER brings the retailer and landlord together by creating one standard system for collecting certified sales data from retail and restaurant tenants. It's a huge breakthrough and a new era for the retail real estate industry!" -- Kenneth S. Lamy
New Orleans (PRWEB) March 10, 2016
The challenge is nearly as old as the shopping center industry itself: finding a system that allows retailers and restaurants to report their sales data to their shopping center landlords in an efficient way with one simple format. That challenge is now solved with DataPoint International's formal launch of the EXETER™ Retail DataHub, the revolutionary web-based solution that standardizes and eases reporting of critical sales data in a secure and reliable manner.
The technology is the result of extensive planning and research, and is based upon more than 30 years of experience from globally renowned CRE retail property and financial management authority Kenneth S. Lamy, DataPoint International's founder, president and CEO.
"The retail real estate industry is now investing in and adopting new technology tools like never before in response to operational demands, retailer initiatives and market expectations," Lamy says. "EXETER brings the retailer and landlord together by creating one standard system for collecting certified sales data from retail and restaurant tenants. Our web-based Software as a Service (SaaS) solution creates a centralized uniform reporting system that not only facilitates sales report compliance, it reduces costs and time a retailer spends on the task, especially for regional and national chains with multiple landlords. It's a huge breakthrough and a new era for the retail real estate industry!"
Retailers can now submit data including gross sales and any deductions or exclusions as required by their lease to EXETER over a secure portal, eliminating manual reporting. Real data in real time are available at the landlord subscriber's convenience and can be accessed by desktop, laptop, tablet or even smartphones over a secure connection. EXETER follows Federal Information Processing Standards (FIPS), and all data are encrypted and strictly confidential. Only the retailer who has submitted the sales figures and the shopping center management or ownership firm has access to individual store data. A unique feature that is attractive to retailers is that they can utilize EXETER to report sales to multiple landlords independently and seamlessly, saving substantial staff hours previously allocated to this function.
"At no time will EXETER reveal this confidential data to third parties," Lamy says. "Nor will we reveal individual shopping center sales. This is a completely secure portal."
The system also will allow the landlords to make more informed decisions about retailer performance, and create comprehensive management reports that will allow them to gain a greater insight regarding the overall picture of an asset's health. EXETER can produce reports for clients by portfolio, property, tenant and specialty leasing (temporary tenants), as well as customized reports requested by the client.
EXETER is available to landlords on an affordable tiered subscription basis, with pricing varying by the services offered and size of shopping center. The service can be utilized by a single store property or multiple shopping centers, and enthusiasm has been strong among early adopters of the technology, Lamy reports.
"As president of The Lamy Group, I've spent my career ensuring that landlords and retailers comply with their lease terms, verifying the data, and helping them discover what those numbers truly mean," Lamy says. "EXETER is the culmination of that experience, coupled with the latest technology developed to make this process simpler and more meaningful. The response to our initial test pilot has been gratifying – and now we've launched the finished product to a highly receptive market!"
Interested retailers and landlords can obtain more information by calling 844-309-8191, or emailing info(at)ExeterRetailDataHub.com. For more information, visit http://www.exeterretaildatahub.com.
###
ABOUT DATAPOINT INTERNATIONAL
DataPoint International LLC, a New Orleans-based data and analytics company, has created a revolutionary, first-to-market, all-in-one and standardized web-based sales reporting technology product – EXETER™ Retail DataHub.
Leadership at DataPoint International draws strength from each team member's 20+ years of shopping center and retail experience: asset management, leasing, accounting / audit, operations, specialty leasing, lease administration, research, and marketing. http://www.exeterretaildatahub.com.