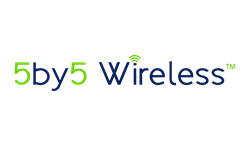 "There's a huge market opportunity for country distributors, telcos, and ISPs to tap into the rural, remote and island geographies."
Ottawa Ontario K2J 1S8 (PRWEB) March 10, 2016
Greg Waite, CEO of InventionShare™, announced today that important discussions and negotiations for country and continental 5by5 Wireless large area hot spots took place during the GMSA mobile conference in Barcelona.
Speaking from InventionShare's Ottawa office, Mr. Waite said that 5by5 Wireless has reached general agreement for exclusive representation in almost 40 countries, with exciting prospects for nearly double that number by Q3 of 2016.
Mr. Waite said that 5by5 Wireless and its large area hot spots make sense particularly for areas with limited or inefficient wireless internet. 5by5 Wireless installations provide significant value as they offer five times' greater wireless internet coverage and economical wireless internet connectivity, and use the UHF 300-1000 MHz frequency spectrum. Developed by a team of experienced technology entrepreneurs with many years' experience in wireless communications, the full duplex wireless communications system is a 100% hardware solution. It affords greater data throughput and wireless coverage up to 25 miles (32 km) - for a total circular coverage area of 1,250 square miles or 3,200 square kilometers from one low cost base station. The 5by5 Wireless circuit also can provide full duplex over all spectrum to all wireless communications devices; it is platform agnostic, providing reliable communications support wherever and whenever it is required.
Mr. Waite said that 5by5 Wireless is a perfect complement to those manufacturers looking to support the use of their devices with full duplex throughout the home and through smart city/rural applications. A 5by5 Wireless installation can also guarantee wireless support for devices through the creation of large area hot spots where all devices and circuits can communicate over large distances.
Mr. Waite said, "There's a huge market opportunity for country distributors, telcos, and ISPs to tap into the rural, remote and island geographies. 5by5 large area wireless is unique, proprietary and allows the operators to extend metro-like services to areas that were previously uneconomically viable because of tough terrain or low population densities."
About InventionShare™
InventionShare provides inventors with funding, talent, expert processes to accelerate innovation, patent creation and monetization. Respecting that each of our inventors is the architect and the mastermind behind the invention, we work with our inventors in a professional manner as partners helping them take their inventions to market.
About 5by5 Wireless™
5by5 Wireless is a patent pending family of inventions that provides a unique solution in delivering internet services to the entire world. Technically it provides full duplex over wireless and high signal strength with very low noise. It is a low cost hardware solution that delivers on the promise of extended range wireless on UHF and on all spectrums and it delivers full duplex to rural, remote, metro, office, smart city, industrial and home applications.
For more information or to get information on partnering with InventionShare and 5by5 Wireless, contact Kensel Tracy, VP Invention Catalyst at InventionShare at ktracy@inventionshare.com or 613-225-7236 Ext 116