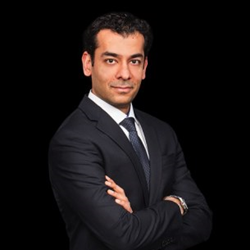 Meticulous attention to detail and a natural aesthetic define my work. From the initial consultation to the final results, my patients belong to me; ensuring their safety, comfort and results are all that I am focused upon
New York, NY (PRWEB) March 09, 2016
Dr. Dilip Madnani, premier facial plastic surgeon from New York, has joined the prestigious Haute Beauty Network.
The Haute Beauty Network, affiliated with luxury lifestyle publication Haute Living, is proud to recognize Dr. Dilip Madnani as a prominent cosmetic surgeon and the network's newest partner.
Dr. Madnani has worked in New York since 2010 and specializes in face and neck lifts, upper and lower eyelid surgery and fat grafting/volumizing procedures to improve the shape and lines of the face. As a Haute Living Beauty Ambassador, Dr. Madnani will share his skill and expert opinion with the Haute Beauty and Haute Living subscribers, educating readers on his industry and providing exciting and relevant news, tips and insight relating to his specialty.
This highly skilled cosmetic surgeon has a lot to share. "Meticulous attention to detail and a natural aesthetic define my work. From the initial consultation to the final results, my patients belong to me; ensuring their safety, comfort and results are all that I am focused upon," said Dr. Dilip Madnani.
The invitation-only luxury beauty network, which partners with just two doctors in every market, unites a distinguished collective of leading doctors. Designed as a partnership-driven luxury beauty portal, Haute Beauty connects its affluent readers with top cosmetic surgeons while offering the latest in news and showcasing new treatments, procedures and advancements on the market while sharing expert advice from its knowledgeable and experienced beauty partners. Dr. Madnani is excited to join the team and share his secrets with the Haute Beauty and Haute Living networks.
About Dr. Madnani:
Dr. Dilip Madnani is a facial plastic surgeon who is double board certified by both the American Board of Facial Plastic & Reconstructive Surgery and the American Board of Oto/Head & Neck Surgery. Dr. Madnani spent his childhood in Hong Kong and attended boarding school in Europe. Growing up as an identical twin and having a talent for drawing and painting, the field of Facial Plastic Surgery was a natural fit as he has always been defined by his face. "Studying human faces was always fascinating to me, as an identical twin, we were always defined by our faces- people could never tell us apart despite our distinct personalities," Madnani says.
Dr. Madnani came to the U.S. for his undergraduate education at Brown University in Providence, Rhode Island and subsequently attended medical school at the Albert Einstein College of Medicine in New York. He graduated medical school with a Dean's recognition award and a distinction in research. After completing his internship in general surgery and residency in Oto/Head & Neck Surgery at Montefiore Medical Center, Dr. Madnani moved to New Mexico where he ran two successful private practices focusing on facial plastic surgery and reconstructive surgery of skin cancer defects of the face and neck, as well as all aspects of head and neck surgery. This experience further honed his skills as being one of the only Facial Plastic/Head and Neck surgeons in his corner of the state- he was exposed to an enormous variety of surgical cases that he was the only one qualified to perform. In New Mexico, he was Chairman of the Department of Surgery at Carlsbad Medical Center and a Clinical Assistant Professor at the UNM School of Medicine.
Dr. Madnani has been working in New York since 2010 and specializes in face and neck lifts, upper and lower eyelid surgery and fat grafting/volumizing procedures to improve the shape and lines on the face. With a natural aesthetic and an eye for detail, Dr. Madnani's special training allows him to perform all his procedures without the use of general anesthesia, maximizing patient safety and comfort. Among his many distinctions, Dr. Madnani has been voted top doctor in his specialty by Castle Connolly. Outside of his private practice, Dr. Madnani holds a faculty position at the Albert Eisntein College of Medicine as an Assistant Clinical Professor and is involved in teaching residents at Jacobi Medical Center.
To learn more, visit Dr. Madnani's Haute Beauty profile: http://hauteliving.com/member/dr-dilip-madnani/