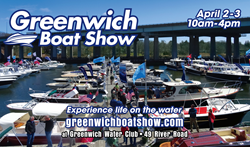 Love the water? Love speed and elegance? Love the smell of the sea and the wind in your hair? Have we got something for you! Come experience life on the water! Greenwich Boat Show kicks off Saturday 4/2 and runs through Sunday 4/3, and its free.
(PRWEB) March 10, 2016
In the eight years since it first began, Connecticut's Greenwich Boat Show has rapidly grown to become a favorite among Northeast boaters. And for good reason. There's no other boat show like it, they encourage everyone to experience life on the water.
This unique show has built its reputation by offering a huge selection of new boats, unparalleled access with sea trials that let you get a real feel for the boat, and free admission. And this year, the Greenwich Boat Show will have several new dealers with amazing brands to showcase, an exciting pre-show raffle, plus a land sponsor will bring two of the newest Lamborghini models on the market making this year's show the biggest and best one yet.
The 2016 Greenwich Boat Show will be held April 2 and 3, from 10 am to 4 pm each day, at the Greenwich Water Club in Cos Cob, Connecticut. It's the only in-water boat show that offers free sea trials, and its location along the Mianus River gives boaters easy access to test out multiple boats on the open waters of Long Island Sound. And this year's show will have plenty to try out, with more than 110 boats representing 42 brands from 18 of the best dealers in the region.
Boaters in the market for high-end, luxury vessels can test such brands as Chris Craft, Tiara, Bavaria Yachts, Jeanneau, Back Cove, Southport Boats, MJM, Carver and Formula. They'll also be able to try yachts from Sabre, Hunt Yachts, Vanquish, Galeon, Meridian and SeaLine.
Anglers hoping to reel in a new fishing boat will have plenty to consider. They can test sportfishing vessels like Everglades, Scout, Grady White, Pursuit, Cape Horn, Boston Whaler and Regulator. They'll also get to try great fishing boats from Sea Pro, Release, Edgewater, Sea Fox, World Cat and Robalo.
Families looking for that perfect cruising vessel will get the chance to try such brands as Sea Ray, Monterey, Carolina Cat, Chaparral, Regal, FourWinns and pontoon boats from Premier Pontoons and Bennington.
To secure a chance to try these great boats, show organizers recommend attendees schedule a sea trial in advance online by visiting the show's website at http://www.greenwichboatshow.com.
New this year, two great raffles will be offered before the show and Manhattan Lamborghini will be at the show introducing special series Lamborghini Aventador Pirelli Edition. Raffle winners receive either a free Garmin eTrex handheld GPS receiver or a charming overnight stay at the Cos Cob Inn on Saturday, April 2, letting the winner enjoy the Greenwich Boat Show for the entire weekend. Results of the raffle will be announced on March 29.
For more information on the Greenwich Boat Show, visit http://www.greenwichboatshow.com, or contact Karen Piscitelli at 203-661-4033 ext.251 or kpiscitelli(at)greenwichwaterclub(dot)com