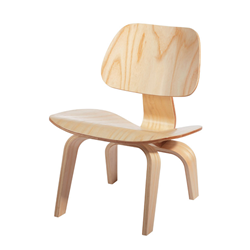 It [Plywood Lounge Chair] is just as popular now as it was 70 years ago and is still always in demand.
(PRWEB) March 10, 2016
New Deals of the Week for EZmod has customers very excited. This week, EZ has decided to put up both contemporary as well as mid century modern items up as part of these exciting deals. These include the Plywood Lounge Chair, the Tolic Chair and the Jaden Chair.
Who says work cannot be a party? It can be with the Jaden chair. With this cool, yet professional looking office chair at your desk, nine to five will feel like a breeze. Jaden comes in a brilliant white color with a thick, red seat cushion for comfort. Perfect for those long hours at the desk. If the vibrant colors are too bright, keep it classy with black. It is known for the thick molded plastic, keeping this office necessity sturdy and long lasting. The wheels are designed so sleek that they glide across hardwood floors with no effort at all. Of course they work just as well on a thin, office carpet. The seat also swivels, allowing the turn from your laptop to the filing cabinet easy. The height of this awesome chair is also adjustable to perfection with the slim, cool designed lever.
Known as the "most famous chair of the century," the EZ version of the Plywood Lounge Chair definitely lives up to this statement. Purposely made up of plywood, this lounge chair was one of the most popular chairs in the midcentury movement. This statement is also true nowadays. "It is just as popular now as it was 70 years ago and is still always in demand," explained Gloria Ortega, Operations Manager. So what is the secret to this chair? Well, it is the technical build of this masterpiece. The form of the chair relates directly to the human body, allowing nothing but ease on the legs and spine. Its ergonomic design is extremely comfortable. Both the natural and walnut color is easy to blend with almost any other decor.
Oh la-la! The Tolic chair is sleek and versatile. The truth is, the Tolic chair looks great anywhere it is put. This chameleon of a chair can be found in coffee houses, restaurants, homes and offices. Tolic comes in a variety of colors and also mixes very well with almost any interior. Tiny living space? Tolic is also stackable up to four chairs.
EZmod Furniture loves to see what customers do with EZmod products in the home, office, patio…just about anywhere! Now there is an EZ way to do it, follow ezmodfurniture on Instagram. The account will be updated regularly with new items, sales, promotions and everything you need to stay in MOD.
EZmod Furniture is a modern furniture company in Baldwin Park, California. For inquiries about these pieces or questions of any kind, do not hesitate to contact Angelique Valdez, Sales Support and Marketing Coordinator at 866-630-6161 ext. 113.