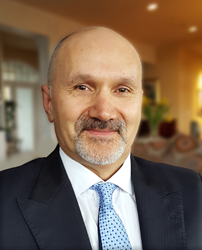 I am proud to be part of the work of this organization and envision a day when all people have the same opportunities to grow, contribute to society and enjoy a fulfilling life.
Seattle, WA (PRWEB) March 09, 2016
Northwest Center announced that Ben Ravani, a former Microsoft Executive, took the helm of the 51-year old organization on March 1, 2016.
Northwest Center's mission is to promote the growth, development and independence of people with disabilities through programs of education, rehabilitation and work opportunity. As part of its portfolio of products and services, Northwest Center provides outsourcing solutions that meet the manufacturing and service needs of Fortune 500 companies and government agencies. The organization's services for children and adults with disabilities touch the lives of nearly 1,000 families annually. Northwest Center is one of the largest non-profit employers of people with disabilities in the Pacific Northwest.
"As an organization there is perhaps no better way to signal our values and determination than by welcoming Ben Ravani. Like the rest of the team at Northwest Center, alongside our clients and their families, Ben has a passion to serve and to create a positive impact in our community and in the lives of people with developmental disabilities," said Northwest Center Board Chair Mike Gano. "Like our valued customers, Ben has worked in a sector that leverages human ingenuity with energy and capital to create positive change. We are honored to have someone of Ben's exceptional caliber as Northwest Center's new leader and we are already proud of what the Northwest Center team will accomplish together."
Ravani comes to Northwest Center after spending most of his career in the technology sector. He has worked at Cummins, Boeing and most recently as a strategic advisor and investor to healthcare and technology startups. Most of his career to-date was at Microsoft, where he spent over 20 years working to develop and implement strategies that shaped products and services that touched hundreds of millions of people.
"With 50 years of history and a successful track record for incubating social enterprise business locally, Northwest Center is in a great position to lead at a national and even global level," said Ravani. "I am proud to be part of the work of this organization and envision a day when all people have the same opportunities to grow, contribute to our society and enjoy a fulfilling life. We're all unique in our own way. We're better together."
About Northwest Center:
Northwest Center offers essential support to people with developmental disabilities at all stages of life through early intervention, inclusive classrooms, employment services and jobs. When people of all abilities learn and work together, everyone benefits. Learn more at nwcenter.org.