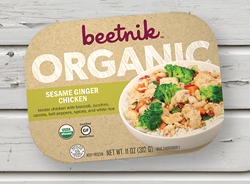 Beetnik's dedication to simple ingredients and refined flavor is resonating with people across the country who appreciate having a convenient, wholesome and organic option available in their local frozen aisle
Austin, Tx (PRWEB) March 10, 2016
The Beetnik line of entrées reached a milestone in early 2016 having been stocked in over 2,000 retail locations across the country. Beetnik's line of certified organic frozen meals have garnered a cult-like status online and among fans of natural and organic convenience food, leading to an increased demand in both large cities and small towns across America.
Beetnik meals are carried in both conventional groceries and specialty food stores, including: Whole Foods, HEB, Giant, Wegmans, Roundy's, Shaw's, Earth Fare, Lowe's, Giant Eagle, Gelson's Woodman's, Festival, Harmon's, Mom's Organic Markets & hundreds of independent natural food stores.
"Beetnik's dedication to simple ingredients and refined flavor is resonating with people across the country who appreciate having a convenient, wholesome and organic option available in their local frozen aisle", commented Beetnik CEO David Perkins.
Made with 100% organic ingredients, including organic grass fed beef and organic chicken, Beetnik presents an ideal solution for the consumer who wants fresh organic ingredients and the convenience of ready-made meals. With over twelve "heat and eat" meals to choose from, the Beetnik line ranges from traditional fare like Beef and Chicken Meatballs to worldly cuisines such as Beef Kheema, Sesame Ginger Chicken & Thai Beef with Coconut Rice.
In addition to their line of prepared meals, Beetnik has expanded their scope to the deli aisle and will be debuting a new line of organic pasta sauces at Expo West in Anaheim, CA this month.
For more information about Beetnik's line of retail products, please visit:
http://www.beetnikfoods.com/wholesale, or stop by Booth #194 at Expo West.