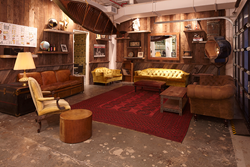 New York, NY (PRWEB) March 10, 2016
In its first expansion since opening in 2013, the Centre for Social Innovation in New York City (CSI-NYC) is set to launch The Women's Lab, a new 2,500 square foot space that will house social impact organizations whose primary beneficiaries are women.
Since its initial opening, CSI-NYC has served as a coworking space and launch pad for 200+ organizations, supporting a diverse community of social entrepreneurs, nonprofits, creative artists, and innovators working across sectors, from farming to finance and everything in between.
By housing groups with a shared demographic focus, the center will increase its ability to provide these members with more valuable partnerships, more relevant programming and increased access to targeted funding. The opportunities for collaboration will not just be limited to members of the expansion space, but will also extend to the larger CSI community.
The physical design will live up to the center's whimsical yet functional vibe, with an eclectic mix of reclaimed furniture and creative touches throughout the space. Jordyn Lexton, CSI-NYC member and founder of Drive Change, has experienced firsthand the impact of this unique approach to workspace. "Physically, this kind of evolving and exciting space was crucial for us in the early stages. Being here allowed us to build an active network where we could benefit from other members' experiences and insights. But most importantly, the communal nature was a direct reflection of the fellowship program we were creating and our theory of change."
CSI-NYC's exclusivity to the nonprofit and social innovation sector makes it a major attraction. Members are encouraged to collaborate and share resources to create a true sense of community. At CSI-NYC, members' first point of contact is a community manager, whose role is to help make introductions to other organizations, provide access to capacity building resources, and serve as a communications liaison within the CSI-NYC community.
The Women's Lab at CSI will act as a vertically-focused incubator to some of the city's most innovative organizations and entrepreneurs advocating for young girls and women. It is a timely focus for the center, with immense potential for deep collaboration and partnership opportunities.
"This is an exciting moment for our community," said David Gise, Managing Director of CSI-NYC, "It's an incredible opportunity to continue our experiment of building spaces that best foster social change."
For more information, please visit http://nyc.socialinnovation.org/the-womens-lab