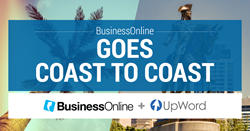 BOL's acquisiton of UpWord "...is a natural progression of our leadership as we continue to create greater expertise in search, content and data to improve our clients' marketing return on investment." - Thad Kahlow, CEO of BusinessOnline
San Diego, CA (PRWEB) March 09, 2016
BusinessOnline, an award-winning digital marketing agency in San Diego, has announced the acquisition of UpWord Search Marketing, a Boston-based digital agency specializing in search marketing, social media, content marketing and analytics. This bi-coastal expansion strengthens BusinessOnline's position as a nationwide leader in data-driven B2B digital marketing. Both agencies serve Fortune 1000 companies, including FujiFilm, Honeywell, HP, Lincoln Electric, Milgard, Pfizer, Philips, Teradata, and others.
"We have been championing performance driven-digital marketing and delivering results for more than 17 years," states Thad Kahlow, CEO, BusinessOnline. "This acquisition is a natural progression of our leadership as we continue to create greater expertise in search, content and data to improve our clients' marketing return on investment in a business environment that is increasingly demanding and competitive. Having an East Coast office allows us to provide our proven, data-driven strategies to businesses across the country."
Serving as the East Coast office of BusinessOnline, UpWord will operate out of its current Boston office under the leadership of Brian Silver and Robert Cavilla. "We are excited about the synergy we're creating by combining the experience, leadership and vision of BusinessOnline with our customized, long-term solutions approach with clients," explains Cavilla. Silver adds, "Together, we will produce the industry's next generation of digital marketing sophistication that will bring higher levels of return for our clients."
In addition to the acquisition of UpWord, BusinessOnline also recently launched Data Weld, a sister company focused on delivering outsourced marketing analytics and insights that help to prove and improve marketing's impact on business, that further strengthens the agency's position as a leading force in data-driven digital marketing.
###
About BusinessOnline:
BusinessOnline is a performance-driven digital marketing agency headquartered in San Diego, CA. Recently named 2015 "B2B Agency of the Year" by the Business Marketing Association (BMA), 6x winner of the B2 Awards, one of Ad Age's "Best Places to Work" in 2015, Fortune' Top 10 (#4) "Best Places to Work in Advertising and Marketing" and 4+ years running as a best places to work by San Diego Business Journal. The hallmark of BusinessOnline is the creation of integrated customer-centered digital campaigns that drive results and elevate marketing value. Some of BusinessOnline's mid-market and enterprise clients include HP, Teradata, Honeywell, Lithium Technologies, Milgard, Siemens and Lincoln Electric. For more information on how BOL helps clients close the marketing loop, visit http://www.businessol.com/
About Upword:
UpWord Search Marketing is a digital marketing agency based in Boston, MA. UpWord is a recognized leader in search engine optimization as well as content marketing, PPC, marketing analytics, and digital strategy development. UpWord has experience working with B2B and B2C brands such as Thermo Scientific, FUJIFILM, and Harvard Business Review. http://www.upwordsem.com/
About Data Weld(.net):
Data Weld is a technology enabled marketing services company (sister company of BusinessOnline). People-Powered, data driven marketing analysis & insights that makes your programs and teams, internal & external, more effective. For more information on how to prove and improve marketing ROI visit http://www.dataweld.net/.