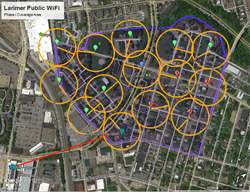 Malik Bankston, Executive Director of the Kingsley Association stated "Our goal is to bridge the digital divide and provide opportunities for every child to build a brighter future and to achieve their dreams."
Pittsburgh, PA (PRWEB) March 09, 2016
The Kingsley Association on behalf of the Larimer neighborhood, along with The City of Pittsburgh and Google today announced a partnership to provide public Wi-Fi to a significant portion of Larimer and portions of East Liberty, including the East Liberty Gardens, Enright Court, and the Phase I site currently under development by McCormick, Baron, Salazar (MBS) and Allies & Ross Management and Development Corporation, as part of the Choice Neighborhoods program of the U.S. Department of Housing and Urban Development (HUD). ConnectedHome, a pilot initiative developed by HUD, is designed to accelerate broadband adoption by children and families living in HUD-assisted housing, which the city is now building as part of a $30 million grant they received for revitalization efforts.
The network will consist of an estimated fourteen to twenty outdoor meshed access points along with all supporting network controllers, switches, routers, access antennas and subscriber antennas within the neighborhoods. In addition to the outdoor coverage, the network will also provide Wi-Fi coverage inside the Kingsley Association.
Once the preliminary planning has been approved and construction begins, the project is estimated to take between eight to ten weeks to complete.
"This is a major step on our quest to bridge the digital divide in Pittsburgh," said Mayor William Peduto. "We are thrilled to be working with HUD, Google and the Kingsley Association to bring public Wifi to Larimer. Expanding access to technology and information is essential to creating equal opportunities for all Pittsburghers."
Google Pittsburgh is providing a grant worth $150,000 to make this project possible, in addition to two subsequent years of maintenance and support costs. Google has been providing community grants to a variety of organizations throughout Pittsburgh since 2010, focused on STEM education, digital inclusion, carbon reduction, and technical infrastructure to increase the capacity of nonprofit organizations.
"According to 2013 census data, more than 20% of Pittsburgh homes lack internet access," said Kamal Nigam, Engineering Director and head of Google's Pittsburgh office. "Google's core mission is to organize the world's information and make it universally accessible and useful. As part of that mission and in partnership with The Kingsley Association, we are happy to support installation of a Wi-Fi network that will increase internet access for our neighbors!"
Malik Bankston, Executive Director of the Kingsley Association stated "Our goal is to bridge the digital divide and provide opportunities for every child to build a brighter future and to achieve their dreams."
Velociti Inc., a leading technology deployment company, has partnered with Google on several Public Wi-Fi projects and will be responsible for the site survey, design, physical deployment, network certification and ongoing support ensuring the communities' network is always operating according to the quality standards set by Google, the City of Pittsburgh and the Kingsley Association.
"Programs like ConnectedHome and Grants provided by Google which bring high-speed access to developing neighborhoods are critical to the future of these families and our Country. We are extremely proud to be a part of these important ground breaking initiatives," said Damian J. Propes, Account Manager for Velociti.
About Kingsley Association
The Kingsley Association has a rich history of providing needed services to children, youth and their families. The Kingsley Association was established in 1893 for the purpose of providing services to working class ethnic families of Pittsburgh. A wide range of civic organizations uses the Kingsley Association as their base of operations or regular meeting place. Some of these groups include, but are not limited to, the Greater Pittsburgh Alliance of Black School Educators, Association of African American Veterans, and Pittsburgh Black Nurses In Action. In addition, Kingsley continues to promote the healthy growth of neighborhoods through its participation in various redevelopment efforts, and opens its doors to host many community meetings. For more information visit: http://kingsleyassociation.org/
About Google Pittsburgh
In a renovated Nabisco factory in Larimer sits Google Pittsburgh, with more than 400 employees. We're proud to be part of Pittsburgh, a city that produces some of the finest engineering talent in the world. Situated near the campuses of Carnegie Mellon University and the University of Pittsburgh, Google Pittsburgh collaborates with leaders in the fields of machine learning, computer systems and robotics. Our Pittsburgh engineers work on products like AdWords, AdSense, Android, Search and Shopping, as well as on core Google engineering infrastructure and tools.
About Velociti Inc.
Velociti is a global provider of technology deployment services, specializing in the installation & service of a broad range of transportation and networking technology products. Velociti's experience allows enterprise level technology consumers to maximize ROI as a result of leveraging expert, rapid deployment. Velociti clients include many Fortune 500 companies from a wide variety of market segments including transportation, retail, distribution, manufacturing, healthcare, government, education, food service and public venues. For more information visit http://www.velociti.com or call toll free (855)-233-7210.