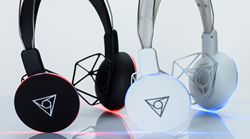 We sought to create a product that would be comfortable and social, and didn't come with a hefty price tag.
Tokyo, Japan (PRWEB) March 09, 2016
Today VIE launched a Kickstarter campaign to raise $150,000 USD over 45 days. Their product, VIE SHAIR, is a first-of-its-kind, pain-free Bluetooth headphone that easily converts from open to closed air frame. It also allows users to wirelessly broadcast music to other VIE headsets via a smartphone app. VIE SHAIR headphones are now available on Kickstarter for as low as $199.
Prior to VIE SHAIR, listening to headphones for extended periods of time was synonymous with discomfort. Pain caused by headphones sitting on soft tissue of the outer ear deeply inhibits listening to music, playing video games, watching movies, TV, and numerous other activities. Custom earphones are the closest answer, but they come with a price tag of over a thousand dollars.
VIE's 3D molded, open air frame design envelops the ear with contact points resting on the bone structure of the skull, making them comfortable to wear for hours on end.
"As a result of deploying Yamaha's audio technology, VIE SHAIR headphones produce exceptional sound and still offer a great degree of comfort," said Founder Yazz Imamura.
VIE Features
A user can switch between open air and closed air listening depending on their environment and listening situation. The open air frame allows you to walk, talk and hear the outside world while listening to your music. The closed air frame enables privacy.
VIE deploys Yamaha's high spec MACH-5 audio module. The "on-board" 3-band equalizers allow you to change the character of sound, or you can opt for one of the preset audio templates like hip hop, rock, or jazz.
VIE deploys a proprietary directional flat speaker which leverages planar magnetic technology and focuses the sound directly towards your ear, minimizing sound leakage.
VIE's "on air" mode allows you to connect with other VIE headphones within a 30m radio distance via a smartphone app. There's no cap on the number of devices that can tune in.
VIE is designed for the person whose fashion sense is in line with their musical tastes. From the 3D frame to five full-color LED lights, these sleek, futuristic headphones look as cool as they sound.
"Headphones are used for so many different activities, whether it's sports, gaming or everyday life. We sought to create a product that would be comfortable and social, and didn't come with a hefty price tag. Through the Kickstarter community, we hope to get the financial backing needed to be able to move onto the production stage and hopefully bring these high-quality headphones to the market," Imamura continued.
VIE's Kickstarter campaign runs from March 9, 2016 until April 23, 2016. For a full rundown of the pledge levels, visit the Kickstarter page.
Media wishing to demo VIE SHAIR or interview the founders should contact PR agent Jackson Wightman at +1 (514) 605 9255.