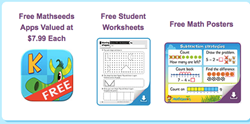 (PRWEB) March 10, 2016
The educational publishers behind Mathseeds, the popular online math program for students in grades K–2, are now offering a range of classroom math resources for teachers, as well as a four-week trial of the program.
The resources include Mathseeds apps for grades K–2, which are designed to increase students' math skills through game-like lessons. Valued at $7.99 each, the apps include a multiplayer feature that teachers can use in the classroom to motivate students to compete for in-game rewards.
Teachers can also now access downloadable math worksheets and posters, which may be used both in and out of the classroom. Once signed up for a four-week Mathseeds trial, educators immediately gain access to additional classroom resources, such as big books, lesson plans, student progress reports, and more.
Mathseeds now includes 145 highly structured lessons designed to keep young students engaged and highly motivated while they learn. The program includes self-paced structured activities, fun songs, colorful animations, topic-specific readers, and collectible pets.
The Mathseeds program was developed by the same team of educational publishers behind the award-winning Reading Eggs, an online reading program that's used in a number of schools throughout the United States. Mathseeds teaches children the fundamental math skills they need to succeed in their early years of school and beyond.
Mathseeds is compatible with PC, Mac, iPad, and Android devices. The program can be accessed directly via the Mathseeds website through a browser or by downloading the Reading Eggs student app for the iPad. For more information on compatibility, please visit mathseeds.com/schools/faq.
Educators can access a free four-week trial and Mathseeds resources at mathseeds.com/schools/free-resources.
For more information, visit mathseeds.com/schools or email contact(at)mathseeds(dot)com.