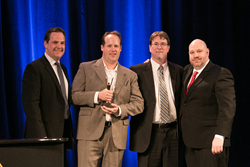 Sales Partnerships Inc. (SPI) was recognized through the Stevie Awards as the US's top outsourced sales company, the top field sales company, the top sales consulting company, and winning the top sales distinction award as well. SPI was also recognized as
Denver, Colorado (PRWEB) March 10, 2016
Sales Partnerships Inc. (SPI) was recognized through the Stevie Awards as the US's top outsourced sales company, the top field sales company, the top sales consulting company, and winning the top sales distinction award as well. SPI was also recognized as the third most award winning sales organization globally – earning a gold "grand" Stevie award for that distinction.
Founded in 1997, Sales Partnerships, a sales outsourcing provider (also called sales augmentation or contract sales) provides direct branded turn-key sales forces to augment client sales organizations ranging from Fortune 500 companies to equity funded start-ups. 2014 and 2015, respectively, marked SPI expanding from providing virtual branded sales forces to also providing sales consulting and sales recruiting services. SPI also expanded its primary service offering, turnkey sales forces, to the current dozen industries being served.
The Stevie Awards show was held in Las Vegas at the Paris Resort on Friday March 4th, 2016. The Stevie Awards for Sales and Customer Service are recognized as the world's largest and most prominent awards in the fields of sales and customer service. The field of companies competing ranged from dozens of global Fortune 500 companies such as IBM, American Express, Dell, Delta Airlines, Adobe, Cisco and Comcast to smaller companies who are influential in their specialties. Entries covering sales distinctions, case studies, and performance results were judged by more than 100 judges ranging from recognized sales authors to VP's in the Fortune 500 to past Stevie winners.
SPI's win for sales outsourcing was based on head to head competition against more than a dozen major competitors for the same client, a major media company. The company's B2B US push included telesales, Internet marketing, and field sales. Against more than a dozen head to head competitors selling the same products to the same business audiences, SPI led all companies in performance, doubling the performance of the 2nd place competitor. This is SPI's 4th win in this category, more than any other company in history of the awards.
SPI also won as the top field sales company in America (SPI's 3rd win – the most of any single company in the history of the awards). 2015 marked SPI's field sales presence growing to more than 30 cities with 20 more scheduled in 2016. The gold for Sales Distinction was tied to SPI's work in Solar between 2014 and 2015 (one of a dozen verticals SPI works). Average team performance was more than 200% above industry averages. Sales Partnerships' President Fred Kessler commented, "The successes over the past two years has solidified SPI's position leading the Industry in outsourced sales. It was an important year in proving that SPI could be the industry leader for both field and telesales in business to business environments at the same time."
SPI also won a gold award as the top sales consulting firm in America – only 18 months after that service offering became available (along with sales recruiting). Kessler again, "Historically, Sales Partnerships only offered consulting and recruiting to outsourced sales clients as part of the process to be branded sales forces for them. The capabilities existed for years – but it wasn't until late 2014 that SPI had grown enough to be able to offer those services as stand-alone offerings. Winning the award as the top sales consulting company in America in the first year of eligibility is an amazing feat."
SPI also won silver awards for innovations in sales technologies, sales operations, and sales management along with individual silver recognitions for Fred Kessler, SPI's President for top senior sales chief executive and SPI's VP of Operations Aaron Kullman for top sales operations executive of the year.
"The quality and quantity of submissions for the 2016 Stevie Awards for Sales & Customer Service were robust. Entries have more than doubled over the past three years and the 2016 winners achieved the highest ratings in the history of the awards," said Michael Gallagher, president and founder of the Stevie Awards. "The Stevie Awards congratulate Fred and the Sales Partnerships' team, on their commitment to sales and performance."
Watch some of the SPI acceptance speeches on YouTube. Details about the Stevie wins can be found in SPI's announcements page on our web site.
About Sales Partnerships, Inc
Sales Partnerships Inc (SPI) was founded in 1997 with the mission to provide outsourced sales services for large companies looking to expand or change their sales footprints. Headquartered near Denver, Colorado – SPI's current footprint includes more than 30 US cities with capabilities to add new cities within weeks to meet client requirements. A three time Inc 500/5000 winner, SPI has been recognized as the industry leader in outsourced sales for more than a decade – having won every major industry awards ranging from Stevie Awards for Sales to recognitions within sales outsourcing as the gold standard. More information can be found about Sales Partnerships at http://www.SalesPartnerships.com .