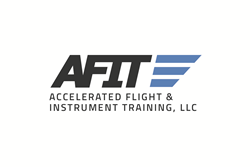 We believe there is no substitute for actual. The antiquated technology of portable simulators used by some training organizations, reinforces our core belief that actual flying conditions cannot be replicated
NEWPORT BEACH, CALIFORNIA (PRWEB) March 09, 2016
AFIT known and referred to as "The Most Respected Name in Aviation" and the nation's largest and most effective Accelerated Flight Training Organizations in the US, today announced the opening of a new location in Hagerstown, Maryland managed by Senior Instructor Mr. Joe Baginski. The company also announced plans to hire 2 additional Senior Flight Instructors in 2016 at Lincoln, and Van Nuys, California and is focusing its recruitment efforts on identifying Senior Flight Instructor Candidates for High Performance and Cabin Class aircraft (especially the Cirrus SR-22 with Perspective Panel) and who possess certain critical classroom training skills which are deemed essential to address our increasingly complex aircraft and training responsibilities across the country.
"We are delighted to have Mr. Baginski managing this new location" said Tony P. Montalte, CEO. Mr. Baginski has been an aviation professional for over 40 years. Joe is Mature and Friendly. He possesses an Airline Transport rating (Type rated in Beechcraft 1900 series) with Rotorcraft Helicopter, Commercial, Instrument, Multi Engine, including CFI and CFII for fixed wing single and multi-engine aircraft with over 13,000 total flight hours and thousands of hours dual given in airplanes and military helicopters. Having spent twenty years as a bush pilot and airline captain, flying in Alaska, he has faced the worst weather on the planet and has garnered experience that he eagerly passes on to his students.
Joe is a highly decorated U.S. Army helicopter pilot who served in Vietnam. His experience includes many types of Aircraft and he has performed duties as an EMS pilot and company instructor for a Part 135 operation in C421 Cessna and King air BE200 specializing in glass cockpit including G1000,G530,G430. Currently flying a range of Aircraft which include Cessna 172/T182TC/182, Piper PA28/28R/32, Diamond DA 40, King Air, Mooney M20 series....Van's RV12.
Joe's love of flying and passion for teaching make him a very desirable CFII with a very active sense of humor and great skills honed over a long period of time.....
Mr. Montalte states the decision to add an this new location was due to overwhelming demand from clients in that part of the country and the fact the Company continues to exceed its corporate and financial goals.
"We're seeing a number of positive indications that our clients are turning more to the latest Avionics and increasingly insist upon actual training without the use of our simulators. We believe there is no substitute for actual. The antiquated technology of "Portable Simulators" used by some training organizations, reinforces our core belief that actual flying conditions cannot be replicated. We understand the cost of flying continues to increase, however, savings realized using a portable simulator simply cannot compete with actual flying time under ATC control.
"We're Nationwide" AFIT has 48 highly trained and licensed Senior Instructors located across the United States with heavy concentrations in California, Denver, Texas, Arizona, Utah and Florida, with enormous activity on the East Coast and throughout the Midwest specializing in High Performance aircraft and the G1000. All are "Full-Time" instructors dedicated to AFIT and its core focus of training PPL pilots to certification in 14 days and IFR pilots in 10 days with no prior training. In less time if some prior training has been achieved.
14 day Private Pilot Training courses are also available at many AFIT locations across the country.
Montalte states, All our training is important to the client and all clients receive One on One undivided attention each and every day, all day long.
He continued, "We value the trust that our clients have shown in us. On behalf of every AFIT member, Senior Instructor and employee, let me assure you that our company will continue to protect the principles of our profession, maintain the highest standards of excellence, and provide each client with the quality services they have come to expect and deserve from AFIT."
AFIT Accelerated Flight & Instrument Training is a a leading provider of Accelerated Flight Training Programs and professional consulting services to the General Aviation Industry, aircraft manufacturers, private companies, law firms, corporations, Doctors, athletes and government agencies. Our team of educated and experienced Senior Flight Instructors and technical specialists are recognized for excellence in service by local, national and international business communities.
For further information regarding Flight Instructor openings, Training Schedule Availability or client referrals, contact: Tony P. Montalte, CEO, AFIT Accelerated Flight & Instrument Training, PO Box 9099 Newport Beach, California 92658 866-270-8224 or log on to http://www.afit-info.com