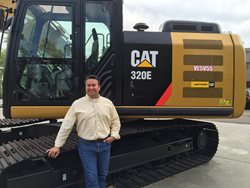 "We want to thank Greg for his important strategic contributions to the team and look forward to his continued success as he takes on this challenging new role." - Kirk Fowkes, Vice President of Hawthorne Power Systems
San Diego, CA (PRWEB) March 09, 2016
Hawthorne Cat, the exclusive Cat® equipment dealer in San Diego, the Hawaiian Islands and the Pacific Region has promoted Greg Pino to Regional Product Support Sales Manager. In his new position, Greg will manage the product support sales groups for both Machinery and Power Systems for the greater San Diego region.
Greg has been with the company for more than 15 years. Beginning as a Rental Sales Representative, he moved into engine sales and advanced to become Branch Manager for Hawthorne Rentals in 2012. Greg has continued his management advancement by leading the Rental Power division for the past two years. In 2015, the Rental Power division was recognized for their outstanding performance in delivering the highest level of customer satisfaction for the entire dealership.
According to Kirk Fowkes, Vice President of Hawthorne Power Systems, "Greg brings together an extensive leadership background with a strong foundation in sales and management. He understands the importance and need for proactive process improvement." Fowkes continues, "We want to thank Greg for his important strategic contributions to the team and look forward to his continued success as he takes on this challenging new role."
About Hawthorne Cat
Hawthorne Cat is the authorized dealer for Cat construction and power equipment in San Diego, Hawaii, Guam, Saipan and American Samoa. Hawthorne sells, rents, provides parts and service, training and emission solutions to various industries including general building construction, landscaping, marine, paving and power generation. For more on Hawthorne Cat, visit http://www.hawthornecat.com.