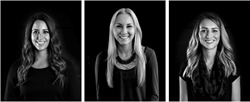 NEWPORT BEACH, California (PRWEB) March 10, 2016
Orange Label Art + Advertising, one of Orange County's longest-standing privately held marketing and advertising agencies, has recently grown their client base with account wins. In response, Orange Label has added Kaleigh Teskey - Account Executive, Janell Rowland - Account Coordinator, and Jamie Allen - Account Coordinator, to its talented team to service its new and growing existing client base.
A native from Arizona and an Arizona State University Graduate. Jamie joins the Orange Label team with professional social media and marketing experience from her previous position at Pimco. Competitive by nature, Jamie follows various sports teams including her beloved Green Bay Packers football team.
A recent University of San Diego alumna, Janell brings great marketing experience from her previous internships at Sambaa, Nextbelt and the Farmers Insurance Open. For leisure, Janell enjoys hiking, traveling, Angels baseball games with friends and family, and spending time with her two dogs.
Born and raised in Orange County, and a graduate of Cal Poly San Luis Obispo, Kaleigh joins Orange Label with an extensive background in marketing and PR from Boy Scouts of America. When asked why Kaleigh has made the move to Orange Label, she commented, "The culture here at Orange Label is palpably alive! The team is firmly rooted in the core values of fun, energy, creative, team and orange."
Orange Label is thrilled to add three talented new team members to its integrated advertising team to support the marketing firm's remarkable growth. The ad agency's move to 4000 MacArthur Blvd further encourages expansion in team and client base, which allowed for a considerable increase in square footage and embraces a more collaborative environment that supports the agency's brand and mission, is conducive to employee work/live lifestyles and stimulates creativity and strategic thinking.
ABOUT ORANGE LABEL ART + ADVERTISING
Orange Label Art + Advertising is one of Orange County's longest-standing privately held advertising agencies. Founded in 1972, the agency currently represents clients from across the United States, in a broad range of specialties, Healthcare, Education and Retail. Key current clients include Chapman University, Friar Tux Shops, Greenwell Farms and Kahoots Feed and Pet Stores. The agency principals are Wes Phillips, Rochelle Reiter and Debbie Nagel. Key Orange Label differentiators include its 'Orange Exploration™' fact-finding approach, powerful 'View from the Field™' research technique and 'The Juice,' a different-and-better client branding method. For more information about Orange Label Art + Advertising, visit http://www.orangelabeladvertising.com.
###