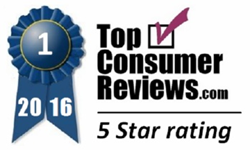 We're pleased to give Sky Blue Credit Repair our highest possible rating in the credit repair industry.
Overland Park, KS (PRWEB) March 14, 2016
TopConsumerReviews.com recently awarded their highest five-star rating to Sky Blue Credit Repair, an industry leader in Credit Repair services.
For the majority of Americans, their credit history and credit score are critical factors in their ability to qualify for a mortgage, the amount of money they'll pay on car payments and insurance premiums, or even getting a credit card. Unfortunately, in today's economy, late payments and issues with paying bills on time can leave negative information on a person's credit history. Credit repair services work with consumers to reduce or eliminate negative items in a credit history by working directly with creditors, collection agencies, and credit bureaus.
Sky Blue Credit Repair has been helping customers with credit problems for more than 20 years. Their low setup fees and reasonable monthly billing plans make it possible to rebuild one's credit quickly and inexpensively, with no hidden costs.
"Customers rave about Sky Blue Credit Repair Services," explained Brian Dolezal, of TopConsumerReviews.com. "Their effectiveness, attentiveness to detail, and level of service are just part of the reason why Sky Blue has earned the prestigious Fair Credit Reporting Act Certification from the Consumer Data Industry Association. Given their deep knowledge of the FICO scoring method, the laws governing credit reporting, and their skill at applying techniques for rebuilding credit, Sky Blue should continue to empower customers who need to move forward with their personal finances. We're pleased to give Sky Blue Credit Repair our highest possible rating in the credit repair industry."
To find out more about Sky Blue and other Credit Repair services, including reviews and comparison rankings, please visit the Credit Repair Services category of TopConsumerReviews.com at http://www.topconsumerreviews.com/credit-repair.
About Sky Blue
Sky Blue Credit is dedicated to credit repair, focusing solely on helping customers reaching their credit goals through repair and restoration services since 1989. They pride themselves on speed, disputing 15 items every 35 days, as well as giving intelligent guidance with respect to optimizing customers' credit scores.
About TopConsumerReviews.com
TopConsumerReviews.com is a leading provider of independent reviews and rankings of hundreds of consumer products and services. From Credit Repair Services to Identity Theft and Debt Relief Programs, TopConsumerReviews.com delivers in-depth product evaluations in order to make purchasing decisions easier.