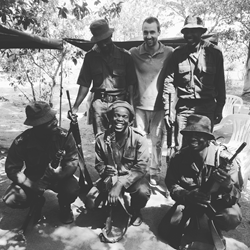 Until we can find solutions and curb demand from Asian markets, the rhino men and women are the last hope and could make the difference between rhino survival and extinction.
PRETORIA, South Africa (PRWEB) March 09, 2016
Video production company Friendly Human today announced the next phase of their Rhino Man documentary project, slated for release in late-summer of this year. In partnership with Global Conservation Corps (GCC) and Southern African Wildlife College, Friendly Human's crew of documentarians are in the midst of conducting interviews throughout South Africa on the people and social structures surrounding the country's rhino poaching surge, with a focus on the so-called "rhino men," or rangers, dedicated to protecting these at-risk animals. The number of rhinos illegally killed in the country has increased by more than 9,000 percent since 2007.
"A year ago the Friendly Human team came across a story like we had never heard before – one that would lead us down a difficult, but rewarding road that has forever changed our lives," remarked Friendly Human Founder and Director Daniel Roberts. "It was the story of a Rhino Man. And we hope by telling these stories of rhino men and women from an angle that has never been attempted that we will inspire those who learn of it to take action and help raise awareness about this critical issue."
The Friendly Human film crew has secured interviews with rhino men and women, or rangers, as well as experts and activists with deep involvement in identifying solutions to the rhino poaching problem. Among confirmed interviewees are:

Toya Delazy, award-winning South African singer, pianist and performer
Major-General Johan Jooste, commanding officer for South Africa National Parks
Matt Lindenberg, founder and CEO of Global Conservation Corps
Access to a full list of film interviewees is at RhinoManTheMovie.com/The-Interviews.
The film crew is also sharing behind-the-scenes photos of these interviews via Instagram at @RhinoManTheMovie and on Twitter with the hashtag #RhinoManTheMovie.
"The vision for this documentary is to shine a spotlight on the deep inequities around commercial rhino poaching," said Executive Producer and GCC Director Justin Walker. "We can only do this through immersing ourselves in the topic and consulting foremost experts and activists like those we've secured for the project. We're grateful and impassioned by those fighting this war on behalf of the rhinos and the communities impacted by this rampant killing of rhinos."
Over the past nine years the number of rhinos illegally killed for their horns has increased more than 9,000 percent – from 13 in 2007 to a record 1,215 in 2014, according to South Africa's Department of Environmental Affairs. Last year, the country saw a nearly equal staggering number of rhinos killed at 1,175. The causes of this surge are many and will be explored in the Rhino Man documentary, but chief among them is an increased demand from Asian markets, which are fueled by false reports of the horns' medicinal properties.
"Since the rhino poaching epidemic started, the amount of rhinos dying is more than the amount of rhinos being born," said GCC Founder Matt Lindenberg. "Until we can find solutions and curb demand from Asian markets, the rhino men and women are the last hope and could make the difference between rhino survival and extinction."
To learn more about the Rhino Man documentary, visit http://www.RhinoManTheMovie.com and follow Rhino Man on Twitter and Instagram @RhinoManTheMovie and using the hashtag #RhinoManTheMovie. Stay updated by signing up for our e-newsletter and contact us for further information on how you can contribute to the project at info(at)rhinomanthemovie(dot)com. View the Rhino Man trailer on YouTube.
About Friendly Human: We're Human – Storytellers
Driven by a belief that "remarkable people deserve to have their story told," Friendly Human strives to distill each and every story they capture into short, visually-appealing videos that move people to action. The company specializes in persuasive storytelling through brand, culture and testimonial films. Friendly Human works with medium to large-sized organizations, including The Home Depot, ABM and the Georgia World Congress Center. Friendly Human is also committed to giving back to their community; the firm is an active supporter of the Global Conservation Corps, New Story Charity, and 48in48. To learn more, visit http://www.FriendlyHuman.com.