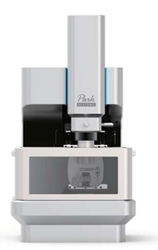 Park NX10 SICM sets a new standard for nanoscale imaging in aqueous environments by providing an incredibly non-invasive and easy-to-use in-liquid imaging for a wide range of nanoscale applications. Keibock Lee, President of Park Systems.
Santa Clara CA (PRWEB) March 09, 2016
Park Systems, world leader in Atomic Force Microscopy (AFM) will showcase Park NX10 SICM at the 251st American Chemical Society National Meeting and Exhibition from March 13 to March 15, 2016 at Booth 708. The Park NX10 Atomic Force Microscope system is the industry's only microscopy tool with an add-on Scanning Ion Conductance Microscopy (SICM) module that easily integrates the power of SICM with an AFM. The American Chemical Society's 251st Annual Meeting is expected to attract more than 15,000 chemists, academics, students, and industry professionals and this year's theme is "Innovation from Computers in Chemistry".
Park Systems will also feature the Park SmartScan operating software for Park AFM systems which has revolutionized Atomic Force Microscopy by automatizing the imaging process, transforming how AFM effectively provides digital nanoscale imaging. Park's newly launched Park SmartScan operating software produces high quality nanoscale imaging through a single click of a mouse in auto mode to achieve reliable images in five times the normal speed of a traditional AFM.
"Park NX10 SICM sets a new standard for nanoscale imaging in aqueous environments by providing an incredibly non-invasive and easy-to-use in-liquid imaging for a wide range of nanoscale applications,"stated Keibock Lee, President of Park Systems. "When combined with our pioneering SmartScan point and click imaging, material scientists can expect dramatic advances in both scientific research and productivity."
Park NX10 SICM is significant for all materials characterization that require measurements in liquid such as hydrogels, live cells, electrochemical reactions, and in-liquid surface charge detections due to a sample's sensitive characteristics to hydration.
Park NX10 SICM provides nanoscale imaging for a wide range of applications in cell biology; cell morphology imaging, nano biopsy and injection, analytical chemistry;electrochemical reaction imaging by integration of scanning electrochemical microscopy,electrophysiology; ion channel detection together with patch clamping and neuroscience;high resolution imaging of single neuron integrated with patch clamping.
"With Park SICM you can take high resolution images in operationally relevant (biological or electrochemical) solutions and measure chemical processes," states Dr. Lane Baker, Associate Professor at Indiana University, where his research group studies electrochemistry, bioanalytical chemistry, and new mass spectrometry methods. "The ability to swap out the SICM head with the AFM head using Park Systems AFM has been extremely beneficial in our experiments."
"Park NX10 SICM provides the user with flexibility never before offered— a platform that allows both AFM and SICM for nanoscale imaging," adds Dr. Baker.
SICM is an advanced tool gaining momentum to investigate the frontiers of nanoscience to make advancements in chemistry, medicine, sensors, semiconductor and many other industry segments. Nanopipette probes used in SICM are effectively nanoscale sensors. Ion currents can be measured directly, and by combining SICM with hybrid techniques, additional signals (e.g. optical, electrical) can be measured.
At this year's American Chemical Society's spring exhibition, Park Systems welcomes you to see their complete line of innovative atomic force microscopes including Park NX10, the industry's leading AFM product known for its unbeatable nanoscale accuracy and ease-of-use facilitated by Park SmartScan, the only point-and-click imaging system for AFM.
About Park Systems
Park Systems is a world-leading manufacturer of atomic force microscopy (AFM) systems with a complete range of products for researchers and industry engineers in chemistry, materials, physics, life sciences, semiconductor and data storage industries. Park's products are used by over a thousand of institutions and corporations worldwide. Park's AFM provides highest data accuracy at nanoscale resolution, superior productivity, and lowest operating cost thanks to its unique technology and innovative engineering. Park Systems, Inc. is headquartered in Santa Clara, California with its global manufacturing, and R&D headquarters in Korea. Park's products are sold and supported worldwide with regional headquarters in the US, Korea, Japan, and Singapore, and distribution partners throughout Europe, Asia, and America. Please visit http://www.parkafm.com or call 408-986-1110 for more information.