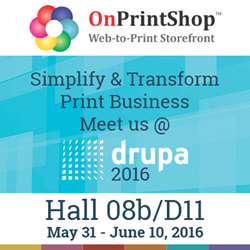 The emerging need in print industry is to have one stop IT provider who provides integrated solution, flexibility to customize, consistent upgrades and personalized support.
AHMEDABAD, INDIA (PRWEB) March 10, 2016
Internet and digital printing are quickly changing the print demand and order process. Today, the print industry is going through a major change. Traditional printing demand is going down while new product demands are drastically increasing. Successful print service providers are adopting this change by implementing the right strategy, right people and the right technology.
One of the success factors is Web-to-Print technology, which has created a huge opportunity for printers to reach new geographies by offering self-ordering 24X7, innovative products, large corporate personalized ordering, dynamic price estimations, digital asset management, easy reordering, automated order management, warehouse management, multiple vendor management and more.
Today the major challenge for PSPs investing in online technology is managing multiple solution providers to meet competitive needs in driving success for the business. The need is to have a one-stop IT provider that provides an integrated solution with the flexibility to customize, consistent upgrades and personalized support.
OnPrintShop works as a one-stop IT partner to define and develop solutions to streamline and automate print order management from order to shipment, increasing sales and reducing costs. With the goal of "Simplify and Transform" at drupa 2016 Hall 08b/D11, OnPrintShop is gearing up to understand PSP's print business and to help one chose the right Web-to-Print solution from a wide range of SAAS and custom license solutions and third-party integration that fit unique needs and enable quick go to market at highly competitive pricing.
OnPrintShop solutions are powered by the latest and most robust mobile responsive technology, online personalized tool, advanced marketing tools, order management, and reporting to provide complete control over the online business.
OnPrintShop has been recognized for easy to use solutions and 24X5 personalized support, which has been key differential to drive results for successful clients.
OnPrintShop Show Special at drupa 2016:
Launching Advanced Corporate module offering rule-based personalized template, address book, kitting products, rule-based approval process, LDAP, workflow automation
High-end mobile responsive Retail Store and Online Photobook Solution
Multi-store with central admin, offline re-seller management, wide format, book module
Trade Printer solution to offer online re-seller stores and complete re-seller management
Custom Solutions - Online Variable Data Printing, Designer Market Place, Mailing & Fulfillment
Third Party Integration – MIS, CRM, Accounting, Shipping, Vendor APIs and lot more
"Extending the warm invitation to drupa 2016 attendees," Naresh Bordia, VP, OnPrintShop says. "The concept of 'Simplify and Transform' reflects our vision to deliver the solutions that help PSP's focus on core business and we work as their IT partner. Working closely since 8 years and helping them drive successes, we have been continuously evolving our solution and services to fit PSP's needs. We understand 90% PSP's globally fall in SME segment and have varied needs. Three major reasons for success have been - Solution Flexibility to meet unique needs, Personalized Support and No Need for IT Programmers to manage our solutions."
If you plan to be among those attending drupa 2016 during May 31 to June 10, 2016, Germany, please be sure to visit the OnPrintShop booth at Hall 08b/D11.
About OnPrintShop:
OnPrintShop is a flagship product of Radixweb, an ISO 9001:2008 certified IT services provider with 15+ years of experience in delivering enterprise-class solutions for diverse industry verticals. With over 9+ years' experience delivering SaaS to custom Web to Print Software from startups to large PSPs & Fortune 500 companies, OnPrintShop has been recognized as the most simple & easy to use Online Printing Software provider to automate the print process from online order to delivery. Delivering personalized support 24/5 & work as a PSPs IT team. The range of solutions is powered by advanced technologies with flexible investment options-SaaS & highly customizable License Solutions. The Solutions - Platinum W2P, Online Photobook, Trade Printer, Multi-Store W2P Central Admin, Book Module, Custom-made Solutions.