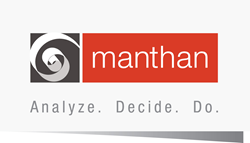 Advanced customer analytics needs a new, different breed of analytical methods that leverages machine learning and other advanced analytical techniques to find valuable patterns and anomalies in customer data. - Forrester
Santa Clara, CA (PRWEB) March 15, 2016
Manthan was among the select companies that Forrester invited to participate in its 2016 Forrester Wave™ evaluation, The Forrester Wave™: Customer Analytics Solutions, Q1 2016. In this evaluation, Manthan's top scores were in the Product Strategy, Functionality and Delivery methods criteria.
"Don't assume that you can use traditional analytics to uncover deep customer insights," Forrester Analyst Brandon Purcell mentions in the report. Advanced customer analytics needs a new, different breed of analytical methods that leverages machine learning and other advanced analytical techniques to find valuable patterns and anomalies in customer data."
The Forrester report took note of Manthan Customer Analytics' user interface and out of the box features. "Manthan is very good at what it does. Namely, it contains 175 prebuilt reports and prides itself on its quick time to insights… It also offers a partitioned interface for marketers, data scientists, and administrators."
Manthan's Customer Analytics is the only cloud based solution in the market today that packages advanced analytics, rich analytical views, data management and model management capabilities. With over 200 customers in 22 countries, Manthan has won the trust and delight of its customers who find its Switch On analytics approach to be an unmatched advantage, making it easy to on-board business users quickly and at scale.
Manthan's Customer Analytics solution leverages machine learning and serve the needs of both business users and data scientists alike. "What stands us apart is the usability of our solution suite to both the marketer and the data scientist community. Data scientists have the opportunity to explore, import, create, tune, modify and execute custom algorithms and data models; while business users can visually understand and interpret and execute personalized campaigns", said Anand Sri Ganesh, Chief Product Officer, Manthan.
The citation from Forrester as a Strong Performer among Customer Analytics solutions comes on the heels of recent wins for Manthan. Recently voted as the #1 vendor for Tier One Retailers by RIS Software Leaderboard, Manthan has been at the forefront of innovation and has been focused on helping business users get the best value out of advanced analytics and Big Data.
About Manthan:
Manthan is the Chief Analytics Officer for consumer industries worldwide. Manthan's portfolio of analytics-enabled business applications, advanced analytics platforms and solutions are architected to help users across industries walk the complete data-to-result path - analyze, take guided decisions and execute these decisions real-time. Sophisticated, yet intuitive analytical capability coupled with the power of big data, mobility and cloud computing, brings users business-ready applications that provide on-demand access and real-time execution - the only path to profit in a contemporary, on-demand and connected economy. Manthan is one of the most awarded analytics innovators among analysts and customers alike. To see how your business can gain from analytics, visit manthan.com.