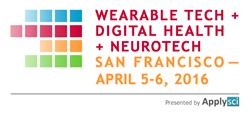 Curating the health sensor revolution
San Francisco, CA (PRWEB) March 10, 2016
Sensors, devices and big data have already transformed care delivery and self tracking. On April 5-6, 2016, Wearable Tech + Digital Health San Francisco and NeuroTech San Francisco will explore the next steps: novel biosensors; device effectiveness; consumer and clinical adoption; machine learning and big data analysis; and brain monitoring, stimulation, BCI, and neurofeedback.
Keynotes include:

Mayo Clinic Center for Innovation's Medical Director Douglas Wood on enhancing and saving lives through technology
Takeda's Chief Digital Officer Bruno Villetelle on digital pharmaceutical "companions" beyond websites and apps
Futurist Vivek Wadhwa on the spectrum of disruptive technologies transforming healthcare
Cedars Sinai Neurosurgery Chairman Keith Black on early Alzheimer's diagnosis through retinal screening; and nanotech to penetrate the blood-brain-barrier for tumor treatment
Andreas Weigend on social data, machine learning, and big data analysis
Tel Aviv University and neurosteer's Nathan Intrator on mobile, accessible, accurate EEG monitoring and neurofeedback, with a focus on migraine, epilepsy, sleep and attention
Philip Low on brain computer interfaces that allow Stephen Hawking to communicate
(Click to view all speakers)
The "health sensor revolution" is here. The final agenda includes AI and machine learning in healthcare. Wearables for elite sport performance. AR to improve daily life for autistic kids and adults. Apps, robots, and wearables to enable seniors to age in place. Digital solutions for chronic disease management. Wearables designed for children and their guardians. Brain-Computer Interfaces for mobility, communication and daily functioning. The latest in biosensors, "artificial skin" and biodesign. Healthcare investors on opportunities at various stages. And a patient case study on misdiagnosis and assuming control through technology.
The conference - sponsored by Takeda, Vital Connect, StartUp Health and Emotiv - will result in interdisciplinary collaboration for less invasive, more accessible, data optimized tools to improve life. It is curated by ApplySci - editors of the ApplySci discoveries blog, and producers of wearable tech, digital health and neurotech conferences globally.