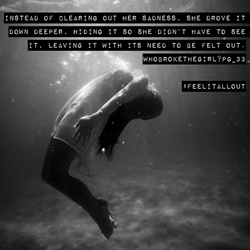 "I hope these quick hits of raw emotion will make people feel their own more deeply, and see what needs to be cleared out to live happier." - Cristina Costantino
New York, New York (PRWEB) March 10, 2016
Author Cristina Costantino's debut work "Who Broke the Girl?" – a searing memoir crafted in a lyrical style – is being adapted for Instagram in order to reach a global audience that favors short, snackable content on their mobile devices. As reported by Time Inc Network - "The average attention span for the notoriously ill-focused goldfish is nine seconds, but according to a new study by Microsoft Corp., people now generally lose concentration after eight seconds..."
The story is being told by pulling thought-provoking lines from the memoir and turning them into visually compelling posts. Focusing on organic growth, the current posts are hitting their mark with comments like: "True Story" - @laust_in_space, "That gave me chills" - @jenaelien, "Great work" - @the_writers_central and "Great feed. Keep it up" - @parker_lichfield.
Describing her work, Costantino says: "Its lyrical tone keeps the energy flowing from one experience to the next, and stripping away the names of people and places, including my own, keeps all of the focus on the emotions that we tend to hide even from ourselves."
All of this lends itself well to turning a 245-pg book into short bursts of content on Instagram. Each post can stand-alone, to resonate with first-time viewers, or work together to tell the full story across its weekly posts.
Costantino adds: "My memoir is an incredibly raw and open reflection on how one can live a seemingly successful life on the surface, but be unconsciously driven by their painful childhood lessons. I've described the most complicated life events using incredibly simple language to drive home a universal truth – everyone just wants to be happy. I hope these quick hits of raw emotion will make people feel their own more deeply, and see what needs to be cleared out to live happier."
In early reviews of the full-length book, the work has been applauded:
"A memoir by definition, "Who Broke The Girl?" is more of a rhetorical question…[it] gives a personal edge to some life lessons that can apply to anyone's life, without placing the blame on anyone but one's self." – Reading Other People
"...Costantino's emotional honesty is refreshing, and her slow, awkward journey toward greater happiness reflects that life's problems are rarely solved in an instant. An odd but often satisfying story, told in an unusual voice." – "Kirkus Reviews"
Costantino has worked on "Who Broke The Girl?" for the past year. Raised by working class parents in an Italian immigrant enclave of Syracuse NY, she graduated from Syracuse University. Starting off as a graphic designer in NYC, she moved on to a 12-year advertising career in client management; while moving herself down to Charlotte, over to Milan, back to NYC and across to London. She took a 4-month break from her career to backpack across SE Asia. Finally setting down roots in the one city she always thought of as home - NYC - she's lived in the East Village for the last 5 years.
View the Instagram campaign: @WakingWorksPress
Click here to see book extracts and trailer, a live reading and all current social posts: http://www.whobrokethegirl.com/
The full-length memoir is available in paperback and e-book formats on Amazon at http://amzn.to/1RMkohj