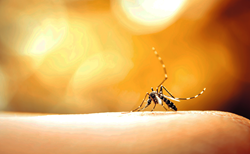 (PRWEB) March 10, 2016
The Zika Virus has been all over the news lately, highlighting the potential harm that mosquitoes can bring. But mosquitoes carrying dangerous diseases isn't a new concept. For years, West Nile has been the main focus of mosquito fears. Now, with a new virus emerging, it is more important than ever to take precautions and get prepared for the upcoming pest seasons.
CroppMetcalfe's 5-Star Pest Control Technicians are ready and willing to help during mosquito season, but it is also important to remember mosquitoes are not the only potentially harmful pest in the area. Viruses and diseases are not uncommon within the pest world.
Often, diseases are identified and publicized, and then fall away without a second thought. Unfortunately, while these diseases may not be in the center of the public eye, they are still very dangerous and can cause serious harm. Diseases such as Lyme Disease or Rocky Mountain Spotted Fever can be carried through infected ticks. Rodents can carry Hantavirus, E Coli, Salmonella, and Leptospirosis. All of these diseases are dangerous and can be passed to humans through one tiny pest.
CroppMetcalfe can help protect against some of the most dangerous pests around. Call CroppMetcalfe or fill out an online form to learn more about Pest Control Service Agreements and how to be better protected against harmful pests this year.
**CroppMetcalfe does not guarantee full prevention of these or any other pest related diseases.