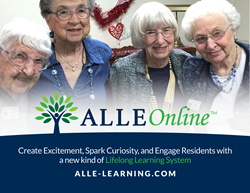 "Senior adults tell us they want to keep learning and are beginning to look for those opportunities when choosing a community,"
Phoenix, Arizona (PRWEB) March 11, 2016
In response to demand for affordable, innovative programs for senior learners, ALLE Learning™, a Phoenix, Arizona-based company, announces the creation of ALLE Online™, designed to provide easy access to the company's most popular classes. Program leaders can now utilize complete class modules, designed to appeal specifically to senior lifelong learners.
ALLE Learning™ Co-founder Jennifer Clancy described the online site, saying, "ALLE Online™ offers program leaders quick, easy access to the popular classes that have proven successful in a variety of learning environments. The complete modules are teacher and, most importantly participant approved and affordable for any senior community."
Clancy described the typical senior activity as "entertainment" and added, "Research has proven the importance of lifelong learning, but senior communities often define the concept with a social activity. While entertainment is important, it should never replace the opportunity for seniors to learn something new and connect to their communities in meaningful ways."
"Senior adults tell us they want to keep learning and are beginning to look for those opportunities when choosing a community," Clancy said. "ALLE Online™ makes a lifelong learning program possible for any community. The easy, affordable program allows senior communities to initiate and support meaningful connections for their lifelong learners. In addition, communities can differentiate themselves by advertising this unique approach to lifelong learning. ALLE Online™ is a win-win for everyone!"
Contact ALLE Learning™ for further information or visit http://www.alle-learning.com to initiate a unique, proven learning approach for your senior lifelong learners.
ALLE Online™ supports senior communities that seek to improve the quality of life of their residents through innovative programs that are enjoyable, interactive and socially engaging.