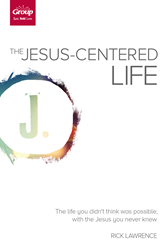 Loveland, CO (PRWEB) March 14, 2016
In his newly released book, The Jesus-Centered Life, author Rick Lawrence asserts that most Christians have a misguided view of Jesus.
The Jesus-Centered Life: The Life You Never Thought Was Possible With the Jesus You Never Knew describes how the author's personal journey to a deeper understanding of the "real" Jesus fundamentally changed his life.
According to Lawrence, "It's clear that despite the best intentions of the Western church—all of our Bible studies, our men's prayer breakfasts, our women's candlelight dinners, our Christian living books, our three-point sermons that load a half-dozen new imperatives onto our backs, our 'positive, encouraging' Christian music, and our accountability relationships—those who name themselves 'Christian' just aren't getting who Jesus really is. Or we're not getting enough of who he really is, or we're getting, literally, a fake Jesus."
Lawrence compares tired faith to a stalled marriage. He writes: "We've kind of lost interest in him, like a married couple in midlife. We've been married a long time to Jesus and have gone through a lot together. But one of the marriage partners, the church, is sort of looking around for something to spark our passions because we're past the 'passionate curiosity' stage with Jesus. So we turn to the 'form and function' of doing church as a kind of midlife splurge—like letting ourselves get involved in an emotional affair to rouse us from our relational boredom."
What's the antidote to a passionless faith? Lawrence describes ways he's found to dive into the "gravitational pull" of a life centered around Jesus. He advocates building a real relationship with Jesus, rather than merely striving for doctrinal obedience or acquisition of biblical facts.
The Jesus-Centered Life book is a companion resource to the Jesus-Centered Bible. Additional Jesus-centered resources are planned for release in September 2016, and will include a series of devotionals and coloring books for adults.
About the Author: Rick Lawrence is an author, ministry leader, and the longtime executive editor of Group Magazine, the world's leading youth ministry resource. He leads the Simply Youth Ministry Conference, and is the author, co-author or editor of 37 books, including Jesus-Centered Youth Ministry, 99 Thoughts on Jesus-Centered Living, and the adult small-group curriculum In Pursuit of Jesus. Rick also wrote or edited all of the featured additional material in the Jesus-Centered Bible.
ISBN: 978-1-4707-2827-4
Publisher: Lifetree/Group Publishing
Release: 3/1/2016
Pages: 248
Size: 6 x 9
Binding: Soft cover
Price: $16.99
Website: http://www.mylifetree.com/jesus-centered
###