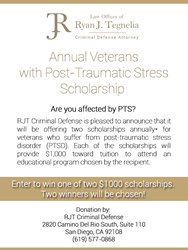 San Diego, California (PRWEB) March 16, 2016
RJT Criminal Defense and its founder, Ryan J. Tegnelia, are pleased to announce the establishment of an annual scholarship program for veterans with post-traumatic stress disorder (PTSD). These are educational scholarships to be used to pay a portion of the cost of tuition at an educational institution. There is no requirement that the applicant currently be enrolled in school, and the institution chosen by the applicant can be a secondary or trade school, a junior college, a college or a university. In order to qualify, an applicant must be a veteran of the United States Armed Forces who has been diagnosed with PTSD.
PTSD affects hundreds of thousands of veterans, only about half of whom seek treatment. PTSD can significantly disrupt a person's life, and that disruption can include difficulties in performing every day activities, including schooling, work and home life. Mr. Tegnelia has established this program in order to assist veterans with PTSD in continuing their schooling, and attaining their educational goals.
Those who are interested in applying for a scholarship, and those who wish to learn more about the scholarship program, should visit the firm's website. There, they can review the details of the program and access the online application form. Questions should be directed, via email, to:
RJT Criminal Defense
2820 Camino Del Rio South, Suite 110
San Diego, CA 92108
(619) 577-0868
mike(at)sandiegocriminallawyerrt(dot)com