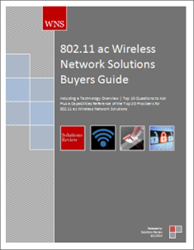 If you purchase a new AC capable wireless network solution in 2016 or 2017, you will be able to rely on it for another 5 to 6 years
Woburn, MA (PRWEB) March 10, 2016
Solutions Review, the leading online resource for Enterprise Information Technology news and best practices, announces today the release of their updated 2016 802.11ac Wireless Network Solutions Buyer's Guide.
Developed by Elizabeth O'Dowd, Solutions Review Wireless Network Solutions Editor, the report is a compilation of the top 20 solution providers offering 802.11ac wireless network solutions. Solution Review's latest buyer's resource providers detailed profiles for each provider included in the report outlining solution features, capabilities and corporate information.
Additionally, the report provides IT professionals looking to purchase a wireless solution with 802.11ac capabilities with 5 questions they should consider asking themselves and 5 questions they should ask potential providers when evaluation solutions. O'Dowd also offers a breakdown of the wireless marketplace and the role that the 802.11ac wireless standard will play as the market evolves and enterprises continue to grow and become increasingly mobile.
The top 20 wireless network solution providers detailed in the report include: Adtran, Aerohive, Alcatel-Lucent, Aruba, Avaya, Brocade, Cisco, D-Link, Extreme Networks, Extricome, Firetide, Fortinet, HP, Juniper Networks, NETGEAR, Quantenna Communications, Ruckus Wireless, Xirrus, Zebra Technologies. ZyXEL Communications.
"Having the fastest and most secure wireless network is one of the most important tech investments for enterprises and small businesses alike" says O'Dowd. "It is the only technology that is consistently used by every employee of a company regardless of their position. What makes 802.11ac so important is the wider channels and backwards compatibility with older devices and 802.11 standards. With mobile technology continuing to rise, each employee averages three devices, all of which are connecting to the same network at the same time. Updating hardware for the latest devices and hardware is extremely expensive, and is essentially useless if your network isn't also up to the latest standards."
In addition to the updated 802.11ac Buyers Guide, Solutions Review has improved the site layout and included new site features. Visitors to the Solutions Review Wireless Network Solutions site have access to solution news and updates, industry best practices information, solution presentations, featured articles, industry event calendars and a full vendor directory all at no cost. All of this information combined with the latest buyer's resource in the 2016 802.11ac Buyer's Guide, Solution review is continuing to become the best resource for all thing 802.11ac.
About SolutionsReview.com
Solutions Review is a collection of online news sites bringing the latest technology news, opinions, social media, best practices and industry events together in one place for our readers. With a strong focus in the Enterprise Mobility, Big Data, Data Analysis, Identity Management, the Cloud, Data and Cyber Security. Solutions Review is managed by a team of content experts and features original insights along with a thoughtful aggregation of industry best practices and solution news. Solutions Review allows seekers of technology solutions to make thoughtful and informed decisions.
Contact:
Matt Adamson
339-927-9237
madamson(at)solutions-review.com