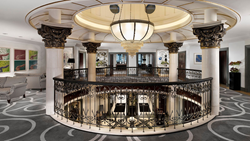 Theale, United Kingdom (PRWEB UK) 10 March 2016
The Kämp Group in Finland covers Hotel Kämp Helsinki from the Starwood Luxury Collection, four GLO hotels, KlausK Hotel Helsinki (Design Hotels), Hotel Haven and Lilla Roberts (Small Luxury Hotels) and Hotel Fabian. This collection of four star hotels covers the capital of Helsinki and with the recent opening of the Lilla Roberts, reaches a total of almost 1200 rooms, all of which have Quadriga's Sensiq entertainment solution installed.
Requirement:
The Kämp Group wanted to provide their guests with the latest solutions in hospitality technology and wished to find the best partners that could integrate several different services under one umbrella. These requirements included an interactive TV system to better communicate with their guests, a digital head end with multiple TV channels to provide a better than home experience and a futureproof WiFi solution that allowed for both free and premium connectivity and loyalty integration.
Quadriga's Solution:
Quadriga offered the luxury hotel group Sensiq across all the properties, as whilst delivering an easy to use and uniform interface, the look and feel could be customised to each hotel's specific banding and offers. Sensiq's CMS pages allow the hotels to share specific information in multiple languages to increase interactivity and communication whilst saving costs.
For a flexible WiFi solution, Quadriga installed QConnect in all the hotels of the Kämp Group. The QConnect solution offers all the features required by the hotel group, including several authentication options and integration with Starwood's SPG loyalty programme at Hotel Kämp.
Kimmo Vainio, Sales Manager for Quadriga says: "The individual hotels were running various different service platforms from both Quadriga and other vendors and the goal was to harmonise them all to bring a futureproof guest experience with an individual brand flavour. After a careful assessment together with the Kämp Group, a solution was locked down to include an enterprise class, WiFi gateway service with state of the art access technology, with the Sensiq information portal and enhancements to estates already installed. We are proud to be a strategic partner with Kämp Group and feel privileged to be working with them."
Hotel and guest benefits:
As well as the guests having a reliable and quick internet connection across all the hotels and a great in room TV experience, the hotels now have a communication tool to reach their customers and to promote their services, via both the WiFi landing pages and Sensiq interface.
With Quadriga acting as a single partner, the hotel has a single contact for support and service, reducing costs and shortening troubleshooting times. Whilst travelling around the several hotels of the group in Finland, guests will be guaranteed with a better than home experience and a platform that is recognisable for the whole of Kämp Group, whilst keeping each brand's values. Juhani Rajala, IT Director of the Kämp Group commented, "The strategic partnership between Kämp Group and Quadriga gives us a single technology partner that can provide us and our guests with futureproof solutions and keep us ahead of the hospitality technology curve. Working with a single partner reduces costs and creates efficiencies"
==Ends==
About Quadriga
Quadriga is a leading international provider of guest technology managed services for the hospitality industry and our commitment is to maximise a customers' on-property value and guest satisfaction.
Quadriga provides customers with the flexibility and reassurance that they can obtain a complete, accessible and relevant guest technology solution that meets their business revenue, guest satisfaction and operational efficiency targets, all from a single, financially robust partner. Our value proposition is to provide technology solutions which enable customers to:

Connect with your guests – and guests with the hotel and their world
Control the guest experience and your network and TV environment
Commercialise new business and revenue opportunities
This value is delivered via a 360º integrated and managed service approach to design, build and manage a complete network and technology ecosystem focussed on the needs of hospitality and guests.
Quadriga offers a single point of contact for a range of managed services covering Networks, WiFi, Hospitality TVs, Interactive TV & Mobile platforms and Financial Services. These integrate multiple hardware and software components, proprietary to Quadriga or via 'best-in-class' partners, with an unrivalled range of multimedia content solutions and expert operational and professional services.
Quadriga has more than 30 years' experience serving the hospitality sector and operates in the key strategic geographies of USA, Europe, Middle East and Africa, supporting more than 300,000 guest rooms including 100,000 with HSIA. The company has unrivalled knowledge and approaching 15 years' experience in managing hotel networks, Internet provision, digital IP systems and delivering IP over coax networks.
Quadriga will continue to leverage its capabilities, its partnerships and deep knowledge of the hospitality sector to create solutions that harness the latest technologies and meet ever- evolving customer business needs and guest expectations.
For more information, please visit http://www.quadriga.com
Press Contact
Vicky Daniels
Group Marketing Manager
Quadriga
Telephone : +44 (0) 118 916 7181
E-mail : Vicky.Daniels(at)quadriga(dot)com
Rory Flashman
Account Director
Spa Communications for Quadriga
Telephone : +44 (0) 1892 511413
E-mail : rflashman(at)spacomms(dot)com