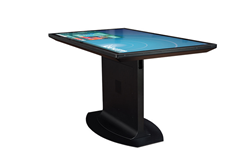 Our whole line up is bigger and better than ever!
CORRALES, New Mexico (PRWEB) March 09, 2016
Ideum (http://www.ideum.com) announces new 65" Ultra High Definition (UHD) 4K versions of its iconic Platform and powerful Pro multitouch tables. These new models follow the Ideum Drafting Table as the first to incorporate 3M™ projected-capacitive touch technology in a 65" display. The new 65" multitouch display is bezel-less, impervious to optical interference, and it has greater fidelity and responsiveness than displays using other touch technologies. The all new Platform 65 and Pro 65 have support for 60 touch points.
The Ideum Platform 65 is a fully integrated multitouch table equipped with a powerful Intel® Core™ i7 quad core computer and single push-button power. The Platform, known for its iconic hourglass shaped form factor, has been available for years with 46" and 55" displays; it is only now available with an expansive 65" UHD 4K display.
The Ideum Pro 65 is an expandable, hardened, multitouch table with a complete PC workstation. It can be purchased with removable storage for up to a staggering 24TB of hard drive space. It is perfect for secure locations and is the preferred model for government clients, universities, and research labs. The Pro has been available with a 55" display for several years; the addition of a 65" UHD 4K display is the biggest change to this model since its inception.
"These new, large 65" displays have transformed our Platform and Pro multitouch tables," explains Ideum CEO, Jim Spadaccini. "We are happy to be the first to offer 3M™ projected-capacitive touch technology in a large 65" display. Last month, we offered the Presenter 65 touch wall and the Drafting Table 65. Our whole line up is bigger and better than ever!"
The Platform 65 and Pro 65 multitouch tables are designed and built by Ideum in the USA to exacting standards. Like all of Ideum's products, they are built out of aircraft-grade aluminum and come complete with lockable ports to ensure security. They are ready for any environment including busy public spaces.
High-resolution images are available at: https://www.flickr.com/photos/ideum/albums/72157665692593695
Youtube video: https://www.youtube.com/watch?v=anxXpBU-KGQ
All Ideum hardware purchases include a lifetime license for the GestureWorks SDK. To learn more about GestureWorks, visit http://www.gestureworks.com
About Ideum
Ideum is an innovative design company based in Corrales, New Mexico. The firm focuses on creating the next generation of visitor experiences that blend both the physical and digital realms. Along with its Creative Services software group, Ideum designs and produces integrated and hardened large-scale multitouch tables and touch walls for museums, educational institutions, government agencies, and Fortune 500 companies. It has developed multitouch tables and screens since 2008 that have been sold in more than 37 countries. For more information, please visit http://www.ideum.com or contact Esther Lombardi at (505) 792-1110 ext.1.
Ideum and GestureWorks are trademarks of Ideum, Inc. 3M™ is the registered trademark of 3M™ Company.