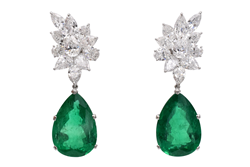 Las Vegas (PRWEB) March 11, 2016
The largest trade only event serving the antique jewelry and watch industry, the Las Vegas Antique Jewelry & Watch Show, returns to the Paris Hotel and Casino on June 2-5. Ideally timed during Jewelry Market Week, the event is managed by show producer, U.S. Antique Shows.
"2016 is a very exciting year for the Las Vegas Antique Jewelry & Watch Show as we celebrate our 20th year as the nation's number one trade event for antique, vintage and estate jewelry," says Dan Darby, Emerald Expositions vice president and U.S. Antique Shows general manager. "In those 20 years, the show has outgrown four earlier venues and now boasts an exhibitor and attendee base from 35 countries."
Each year, the Las Vegas Antique Jewelry & Watch Show welcomes thousands of jewelry trade experts to view the finest antique jewelry and watches from all corners of the world. The show's dedication in offering distinguished and unique merchandise has made it a staple in Las Vegas for two decades. With more than 400 booths, collections range from the Renaissance to Modern periods. Items on the show floor include exquisite gemstone and diamond jewelry, retro watches, cameos and intaglios, flora and fauna statement pieces and more. In addition, elegant signed pieces from famous brands including Cartier, Bulgari, David Webb, Harry Winston, Patek Philippe, Buccellati, Van Cleef & Arpels and many others will be available.
"We exhibit at the Vegas show each year because it gathers dealers from all over the world, allowing us to build strong client relationships. Connections are the core value for our future business," says Adelina Markarian of Nally Jewels. "We're bringing some very unique pieces to the show that we know will garner a lot of attention from attendees including a set of 66 carat Columbian emerald earrings."
For Rosaria Varra from R & A International Design, the Las Vegas Antique Jewelry & Watch Show holds very fond memories for her. "This was the first show I exhibited at about a decade ago and it was a huge milestone for me professionally – a turning point for my business. I get excited about the show every year because it exposes my business to new buyers and retailers and introduces me to the latest trends in the jewelry trade. It is perfectly timed to coincide with the JCK show and since this show is the only antique jewelry event occurring during Jewelry Market Week, it enhances the attendee experience by providing them with the opportunity to see antique jewelry from all over the world."
Registration is now open for the jewelry trade only. Pre-registration is $30, on-site is $50 for all four days. The show opens one day before JCK Las Vegas Show. The Las Vegas Antique Jewelry & Watch Show times are Thursday, June 2 to Saturday, June 4 from 11 a.m. - 7 p.m. and Sunday, June 5 from 11 a.m. - 4 p.m. For more information about the show, call 239.732.6642 or visit http://www.VegasAntiqueJewelry.com.
###
About U.S. Antique Shows
U.S. Antique Shows, producer of the industry's most anticipated events, serves the unique needs of the antique and antique jewelry marketplace with shows in Las Vegas, Los Angeles, Miami, Miami Beach and New York. The group's events offer a broad range of antiques as well as antique, vintage and estate jewelry and watches and annually draws more than 50,000 consumers and 3,000 dealers from 28 countries worldwide.
U.S. Antique Shows is a division of Emerald Expositions, a leading operator of large business-to-business trade shows in the United States, producing more than 50 trade shows and over 100 face-to-face events in total, including conferences, summits and other events. The Company connects more than 335,000 sellers and buyers each year and operates within the U.S. in 10 end markets (Gift, Home, General Merchandise and Manufacturing; Sports & Apparel; Design; Jewelry, Luxury & Antiques; E-Commerce; Creative Services; Licensing; Healthcare; Military; and Food). The Company's shows are typically the most prominent and important for exhibitors and attendees within their various industries. Emerald Expositions is headquartered in San Juan Capistrano, CA.
For more information, visit http://www.USAntiqueShows.com, like us on Facebook: Facebook.com/VegasAntiqueJewelry, follow us on Twitter and Instagram: @USAntiqueShows and explore our Pinterest: Pinterest.com/USAntiqueShows. Check out our blog at blog.usantiqueshows.com.