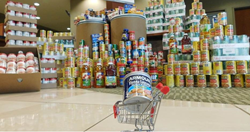 Each year, the number of donations to our food drive grows—and this year, we're blessed to be able to touch the lives of even more local families
(PRWEB) March 10, 2016
Georgia United Credit Union hosted its fifth annual CAN HUNGER food drive February 1 – February 29 2016, to collect non-perishable food that will benefit charitable organizations throughout Georgia and help alleviate hunger for local families. Thanks to the generosity of its members and employees, the credit union collected a substantial amount of food donations— 51,286 cans, which equates to 27.7 tons.
The food will be distributed to local food pantries in the following counties: Clarke, DeKalb, Forsyth, Fulton, Gwinnett, Henry, Laurens, Rockdale and Whitfield.
"Each year, the number of donations to our food drive grows—and this year, we're blessed to be able to touch the lives of even more local families," said Debbie Smith, president/CEO of Georgia United. "I'm proud of our members and employees working together to help those in need. Our mission is 'people helping people' and the food drive is just one of the ways we can make a difference."
Since the food drive's inception in 2012, the credit union has donated a total of 199,200 cans which equates to over 100 tons.
About Georgia United Credit Union
Established in 1958, Georgia United Credit Union is one of the largest and strongest member-owned credit unions in Georgia with over 130,000+ members and 17 branch locations. As a full-service financial institution committed to improving its members' lives and local communities, Georgia United serves all State Agency employees, Board of Regents colleges and universities, employees of over 500 companies and 11 county school systems.