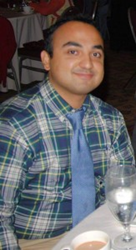 Southwest Orlando, FL (PRWEB) March 10, 2016
Thinking ahead for appropriate care for aging loved ones is not usually a common conversation that comes up in day to day discussion. Most people never even consider it until they're forced to. Oftentimes, there is a sudden event that causes the need to look outside the family for help with a loved one's care.
Acti-Kare Responsive In-Home Care of Southwest Orlando is positioned to fulfill those needs, whether it's something as simple as occasional transportation to appointments, companion and homemaking services, all the way up to full non-medical personal care attention.
"The perception that many people have when they think about a caregiver coming into their home is that it's only for people who need help with all aspects of daily living. Rarely is that the case," says Bilal Khan, Area Director. "Our caregivers at Acti-Kare know the importance of remaining as active and independent as long as possible and, to the extent that we can, help assist clients in maintaining their activities of daily living." In many cases, that means starting care early while the client can still be an active part of their own care plan. This gives them time to get used to their caregiver and find comfort in knowing that Acti-Kare is a consistent and reliable part of their life if the time comes when more assistance is needed.
Bilal was born and raised in the upstate NY area. After completing high school, he attended the University of Central Florida and graduated with a bachelor in Psychology, and then a Masters in Health Administration. Bilal had a passion for seniors and worked in several nursing homes and nonprofit centers to gain a feel of what suited him. It wasn't long before he decided that helping seniors and their families was his calling in life. Home care services are especially dear to him. When his grandmother was terminally ill, he learned what a critical role home care plays in the comfort and well-being of a loved one.
Khan tells us, "My lifelong dream has been to own and operate an in-home care business." After researching multiple opportunities, he chose Acti-Kare because they shared his same morals, values, and methods in the way they care for their clients. "They were the only company whose business model focused on keeping senior's mind and body active. I truly believes keeping seniors mentally, physically and socially active is KEY to their well-being", Khan states.
Acti-Kare has created Acti-Vate™, a revolutionary program that helps battle fatigue in many seniors. "Seeing clients enjoying hobbies or interests that they haven't been able to in years because of a highly trained Acti-Kare caregiver assisting them is incredibly rewarding." states Bilal.
There is no "one size fits all" when it comes to home care, which is why great attention to detail and time goes into understanding and assessing an individual's needs. It's important to incorporate a customized care plan in a manner that is comfortable for the client, their family and the caregiver. "It didn't take us long to decide to bring Acti-Kare to the Southwest Orlando area.
With 8,000 people turning 65 every single day in the United States there is a growing shift in the traditional aging model. Now, more than ever, seniors are choosing to "age in place," and that usually means remaining in a private home or independent living community as long as possible. Khan states, "We know people are happiest and most comfortable in their own homes. We're thrilled to know that we can play such a critical part in helping maintain their quality of life, comfort, and peace of mind. We've seen firsthand that it not only makes life better for our clients, but their extended family as well."
Bilal's location serves the Orlando/Orange County, Winter Garden, Windermere, Lake Buena Vista, Oakland, Edgewood, Belle Isle and Sky Lake areas.