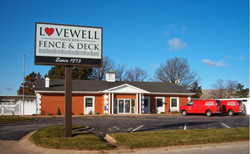 Mike Lovewell stated, "The UltraLox Interlocking™ machine allows us to provide our customers with a beautiful, structural railing system which can be quickly made-to-order at our Davenport location."
Eagan, Minnesota (PRWEB) March 11, 2016
Headquartered in Eagan, MN, UltraLox™ is proud to announce the addition of Lovewell Fence and Deck to the UltraLox™ dealer network. Lovewell Fence & Deck will be fabricating the UltraLox™ aluminum railing and fence systems at their Davenport, IA location. With the addition of the UltraLox Interlocking™ machine, Lovewell Fence and Deck will be well-positioned to provide powder coated aluminum railing and fence products to current and new customers in a manner which is not possible with traditional railing and fence systems offered in their area. The UltraLox™ aluminum railing & fence system is a cost-effective, innovative, panelized railing and fence solution. This revolutionary system allows railings and fences to be produced in just a few minutes and they are easily installed at the project site.
About Lovewell Fence & Deck
Established in 1973, Lovewell is a family-owned and operated business. Over the past 40 years, Lovewell has made it their mission to provide its customers exceptional value. This focus has spurned their growth to become the largest fence and deck company in Iowa.
Mike Lovewell stated, "The UltraLox Interlocking™ machine allows us to provide our customers with a beautiful, structural railing system which can be quickly made-to-order at our Davenport location."
About UltraLox
Headquartered in Eagan, MN, UltraLox™ is expanding its dealer base of large-volume deck builders, vinyl and metal fabrication companies, building product distributors, and fence companies throughout the United States and Canada.
The UltraLox Interlocking™ machine offers a combination of efficiency and quality which has proven to be a winning formula for UltraLox™ partners. As more builders and product wholesalers become aware of the UltraLox™ potential, interest and demand for this innovative technology will continue to show phenomenal growth throughout North America.
The long-term success of each of its customers is of primary importance to UltraLox™. Dealers and product wholesalers who work with UltraLox™ experience an exceptional level of support. Relationships with our dealers go beyond traditional customer service; essentially, companies who work with UltraLox™ become part of a strong and supportive network that is focused on helping them to achieve maximum profitability and business expansion.
For further information on becoming an UltraLox Interlocking™ dealer, please visit our website at: http://www.ultralox.com or call 1-855-742-7245.