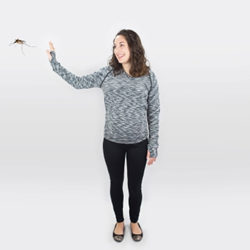 Greensboro, NC and Seattle, WA (PRWEB) March 09, 2016
According to a recent CDC update, Puerto Rico will be ground zero for the fight against Zika in the United States. Health experts claim that 1 in 5 people could become infected. Also recently, 9 pregnant travelers from the US have laboratory-confirmed cases of Zika. Of the 9 cases, one infant was born with severe microcephaly. There are 10 additional cases of concern and under investigation. In response to strong demand from consumers for a wider assortment of insect repellent protective clothing options for families and pregnant women, Insect Shield is launching a lifestyle collection including a variety of maternity basics and every day styles for the entire family. The collection will help offer protection to those traveling to Zika-risk areas and also work well to help protect families from ticks and mosquitoes in their own backyards.
The virus, which is transmitted by the Aedes mosquito, was first discovered in 1947 in Uganda and lived mostly in monkeys. But this year cases in humans have increased dramatically with an alarming connection noted between infected pregnant women and microcephaly — a severe neurological disorder that causes their babies to be born with abnormally small heads. This causes developmental issues and sometimes death.
Because there is no vaccine for Zika, the CDC recommends protection from mosquito bites including the use of permethrin treated clothing.
Personal Protection Tips:

Use EPA-registered insect repellents
Use topical repellents on exposed skin
Wear pre-treated permethrin insect repellent clothing (such as Insect Shield)
Insect Shield Permethrin-Treated Clothing:
Originally developed for the US military, Insect Shield technology bonds permethrin to apparel and gear products to provide odorless, effective and long-lasting protection. EPA-registered Insect Shield is tested and proven to repel mosquitoes, ticks, ants, flies, chiggers and midges (including those that can carry Zika virus and other illnesses such as Lyme disease, Dengue fever and malaria.) The repellency is tightly bonded to the clothing and lasts through 70 washings, the expected life time of the garment. Insect Shield is appropriate for use by the entire family with no restrictions.
Insect Shield Maternity and Lifestyle Collection:
The new Insect Shield Maternity and Lifestyle collection includes a range of every day basics to help protect pregnant women and families. The assortment includes casual tops and bottoms ideal for weekend wear, buggy backyard BBQ's, gardening and sporting events – all with built-in, Insect Shield protection.
About Insect Shield® Technology:
Insect Shield Repellent Apparel and Gear are revolutionary products designed to provide long-lasting, effective and convenient personal insect protection. The durable protection provided by Insect Shield is the result of years of research and testing. In July 2003, Insect Shield Repellent Apparel was registered by the United States Environmental Protection Agency. Insect Shield Technology is utilized by leading lifestyle brands, work wear distributors and International relief organizations across the globe to provide effective protection against insects and the diseases they can carry. Insect Shield is an approved vendor of the US Army and US Marine Corps.
Where to buy Insect Shield protective clothing:
http://www.insectshield.com/lifestyle
How to get your own clothes treated with Insect Shield® protection:
http://www.insectshield.com/IS_Your_Own_Clothes/default.aspx
###