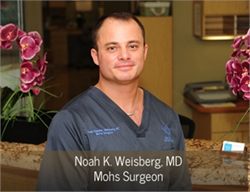 Jupiter, FL (PRWEB) March 11, 2016
To better serve the range of patients he works with throughout Palm Beach and Martin counties, Dr. Noah Weisberg is pleased to announce his practice now has a mobile website. With this new design, patients can quickly and conveniently access information about Skin Care Specialists, even on the go. The mobile website features a mobile friendly menu button at the top left of the site. From it, visitors may take advantage of one-click links to details about care providers, how to contact the office, services offered, patient resources, Mohs information and skin cancer information. Additionally, from the front page, visitors may view a virtual office tour of the practice.
 
Recognized leaders in skin cancer diagnoses and treatment, Skin Care Specialists is a dermatology practice that primarily focuses on providing skilled, compassionate care for the treatment of Basal and Squamous cell carcinoma skin cancer, as well as other types of cancer. 
Other clinical dermatology services offered at Skin Care Specialists include biopsies, excisions, destructions of lesions, Mohs Micrographic surgery, photodynamic therapy (PDT), actinic keratosis treatment, skin check examinations of moles, treatment for dysplatic nevi and atypical melanocytic hyperplasia, removal of seborrheic keratosis, treatment of angiomas and sebaceous hyperplasia.
To learn more about Skin Cancer Care Specialists and to view the new mobile site, visit http://sccsmd.com.
 
About Dr. Noah Weisberg
Noah Weisberg, M.D., is a fellowship trained Mohs surgeon and board-certified dermatologist located in Jupiter, Florida. Since he began practicing in 2002, he has treated over 25,000 skin cancers. Dr. Weisberg serves patients in the Jupiter area, Palm Beach County, Martin County and throughout Florida. Learn more about Dr. Weisberg at http://sccsmd.com.