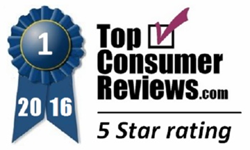 If you need a passport quickly, Passport Visas Express is the most affordable, reliable service available today.
Overland Park, KS (PRWEB) March 17, 2016
TopConsumerReviews.com recently gave their best-in-class rating to Passport Visas Express, a leading provider of Passport Services.
With changes in government regulations regarding travel outside of the U.S., passport applications are at an all-time high. Previously, travelers could visit Canada, Mexico, and the Caribbean using only a birth certificate as proof of citizenship upon reentry. Now, however, even a short trip across the border requires a passport to get back into the United States.
This increase in passport applications has slowed down the process for receiving a passport, often taking up to six weeks from the time the documentation is submitted to the State Department. Even using the government's "rush" service is no guarantee that the passport will be completed and returned in time for an upcoming trip. Using a passport expediting service can mean the difference between getting one's passport within a matter of days rather than weeks.
"If you need a passport quickly, Passport Visas Express is the most affordable, reliable service available today," according to Brian Dolezal of TopConsumerReviews.com. "Passport Visas Express can deliver your new passport in as little as 24 hours. Whether your application is for a new passport, to make a name change, order a child's passport, or to replace a lost or stolen passport, you can trust that your application will be handled accurately and quickly. In light of their excellent customer service and low fees, we are pleased to give Passport Visas Express our highest possible rating."
To find out more about Passport Visas Express and other Passport Services, including reviews and comparison rankings, please visit the Passport Services category of TopConsumerReviews.com at http://www.topconsumerreviews.com/passports/.
About Passport Visas Express
Passport Visas Express specializes in assisting applicants with obtaining and expediting visas and passports for international travel. Working directly on behalf of their customers, they can deliver a new passport even within a one-day turnaround. Their knowledgeable, friendly passport and visa specialists are trained to assist clients through every step of the expediting process, making it as simple and worry-free as possible and at the lowest prices. Passport Visas Express personally hand-delivers all applications to the Embassies, Consulates, and U.S. Passport Agencies, ensuring safe arrival to the appropriate governmental agency.
About TopConsumerReviews.com
TopConsumerReviews.com is a leading provider of independent reviews and rankings of hundreds of consumer products and services. From Passport Services to Travel Insurance and Luggage Stores, TopConsumerReviews.com delivers in-depth product evaluations in order to make your purchasing decision easier.