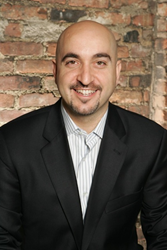 Andy Unanue's entrepreneurial background and experience uniquely qualify him to speak about the importance and increasing influence of the Latino population in the U.S. economy
South Orange, NJ (PRWEB) March 11, 2016
Seton Hall University's Joseph A. Unanue Latino Institute and Stillman School of Business will welcome Andy Unanue, founder and managing partner of AUA Private Equity Partners LLC, to discuss "Investing in the U.S. Emerging Market" in his keynote address at the Integrity and Professionalism Convocation on Tuesday, March 15, at 6:30 p.m., in the Jubilee Hall Auditorium.
"We are delighted to have Mr. Andy Unanue, an expert in emerging markets, address the students at Seton Hall University," said Denisse Oller, executive director of the Joseph A. Unanue Latino Institute. "His entrepreneurial background and experience uniquely qualify him to speak about the importance and increasing influence of the Latino population in the U.S. economy."
Unanue will discuss his expertise, emerging markets, as well as touch upon his unique experience with the Latino market. Unanue's journey includes various positions with Goya Foods Inc., most notably that of chief operating officer from 1999 to 2004. Additionally, Northjersey.com and The Record named Andy Unanue one of the state's "People to Watch" in 2011.
The Integrity and Professionalism Convocation reflects on the Stillman School of Business' core values of integrity and professionalism. The convocation provides the Seton Hall community with the opportunity to learn more about entrepreneurship directly from the source. As the keynote speaker, Unanue joins an impressive list of business, cultural and political leaders, including: Eric Casaburi, founder & CEO of Retro Fitness and Let's YO Yogurt Corp.; Betty Manetta, CEO and president of Argent Associates; Denise Morrison, CEO of Campbell Soup Company; John Nash, Nobel laureate; Carla Harris, vice chairwoman of global wealth management and senior client adviser at Morgan Stanley; Tim Gunn, chief creative officer at Liz Claiborne Inc. and mentor on Bravo TV's "Project Runway"; Christopher Christie, J.D. '87, governor of New Jersey; Cory A. Booker, junior U.S. senator from New Jersey; and Mary Higgins Clark, author and entrepreneur.
For more information about the Integrity and Professionalism Convocation, please click here or contact Leigh Onimus at leigh.onimus(at)shu.edu or (973) 313-6058. Learn more about the Joseph A. Unanue Latino Institute and Stillman School of Business.
###
ABOUT THE JOSEPH A. UNANUE LATINO INSTITUTE
Since 2005, the Joseph A. Unanue Latino Institute's mission has been to educate and empower Latino students, transforming them into the next generation of Latino leaders with a focus on business, sciences and the arts. The Institute provides Seton Hall students with scholarships, mentorship, and service learning.
ABOUT THE STILLMAN SCHOOL OF BUSINESS
Established in 1950, the Stillman School of Business at Seton Hall University maintains professional accreditation from The Association to Advance Collegiate Schools of Business — AACSB International. The School is also among the select group that has achieved both business and accounting accreditation, a distinction earned by fewer than one percent of the world's business schools. The School integrates technology, ethics, and core business skills into challenging undergraduate, graduate and unique dual-degree programs, and is committed to enriching each student's life through an ethics-centered education focusing on transforming concepts into business practice. Known for academic excellence, the Stillman School has received national recognition from Bloomberg Businessweek, US News & World Report and The Princeton Review.
For more information, visit business.shu.edu.
ABOUT SETON HALL UNIVERSITY
One of the country's leading Catholic universities, Seton Hall University has been developing students in mind, heart and spirit since 1856. Home to nearly 10,000 undergraduate and graduate students and offering more than 90 rigorous majors, Seton Hall's academic excellence has been singled out for distinction by The Princeton Review, U.S. News & World Report and Bloomberg Businessweek.
Seton Hall, which embraces students of all religions, prepares its graduates to be exemplary servant leaders and global citizens. In recent years, the University has achieved extraordinary success. Since 2009, the University has seen record-breaking undergraduate enrollment growth in addition to an impressive 95-point increase in the average SAT scores of incoming freshmen. In the past decade, Seton Hall students and alumni have been awarded nearly 20 Fulbright Scholarships as well as other prestigious academic honors including a Rhodes Scholar. In the past five years, the University has invested more than $134 million in new campus buildings and renovations. And in 2015, Seton Hall announced plans for a new School of Medicine as well as launched a new College of Communication and the Arts.
A founding member of the new Big East Conference, the Seton Hall Pirates field 14 NCAA Division I varsity sports teams. The University's beautiful main campus is located in suburban South Orange, New Jersey, and is only 14 miles from New York City – offering its students a wealth of employment, internship, cultural and entertainment opportunities. The University's nationally recognized School of Law is prominently located in downtown Newark. For more information, visit http://www.shu.edu.