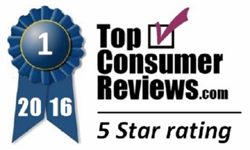 National Debt Relief has earned an A+ rating with the Better Business Bureau, and they offer a 100% customer satisfaction guarantee that sets them apart from most other debt relief companies.
Overland Park, KS (PRWEB) March 21, 2016
TopConsumerReviews.com has awarded their top five-star rating to National Debt Relief, a financial counseling company specializing in debt relief.
As millions of Americans find it increasingly difficult to meet their financial obligations, many people look to debt relief to ease their burdens. From credit card late fees to soaring payment amounts on Adjustable Rate Mortgages (ARMs), it's easy to see why so many people find themselves in financial trouble and are unsure where to find a solution.
While Debt Negotiation, Debt Consolidation, Repayment plans, and Debt Settlement are options available to those who are seeking help regarding their increasing bills, the strategies offered by debt relief companies need to be tailored to the individual's circumstances. Finding a reputable company with a high degree of customer satisfaction can be a challenge.
"National Debt Relief creates personalized financial solutions for customers with unsecured debt of $7,500 or more," said Brian Dolezal, of TopConsumerReviews.com. "They've helped more than 100,000 people since 2007. From the first point of contact, with either their toll-free help line or their online website form, National Debt Relief's certified debt counselors conduct a free debt analysis. Their staff is friendly and knowledgeable, and they work quickly to help their clients create a plan that will allow them to pay off their debts, often for less than they currently owe. Even better, there are zero upfront fees to begin that debt-reduction plan. National Debt Relief has earned an A rating with the Better Business Bureau, and they offer a 100% customer satisfaction guarantee that sets them apart from most other debt relief companies. For all these reasons, National Debt Relief earns our highest possible rating."
To find out more about National Debt Relief and other debt relief programs, including reviews and comparison rankings, please visit the Debt Relief category of TopConsumerReviews.com at http://www.topconsumerreviews.com/debt-relief/.
About National Debt Relief
National Debt Relief helps customers get of debt, with no fees charged for their services until a debt reduction is achieved. Their experienced debt arbitrators have extensive knowledge of all relevant state and federal laws regarding debt negotiation, as well as established relationships with collection agencies and creditors. The majority of National Debt Relief's customers are able to become completely debt-free using payment plans that are comfortable for their budgets.
About TopConsumerReviews.com
TopConsumerReviews.com is a leading provider of independent reviews and rankings of hundreds of consumer products and services. From Debt Relief Programs to Mortgage Refinancing and Credit Repair, TopConsumerReviews.com delivers in-depth product evaluations in order to make your purchasing decision easier.