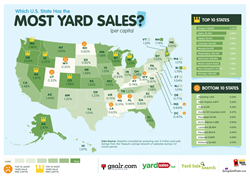 Austin, Texas (PRWEB) March 15, 2016
Treasure Listings, the largest online network of garage and yard sale listing websites, today unveiled the rankings of U.S. states with the most yard sales per capita across the country. Rankings were determined by analyzing twelve months worth of yard sale data from the Treasure Listings Network. Over 4,000,000 yard sales listings were compiled and analyzed.
The state of Oregon ranks #1 in terms of number of yard sales with 3.02% per capita. Idaho (2.25%), Alaska (2.10%), Colorado (1.99%) & Nevada (1.97) round out the top five states. States with the least number of yard sales include Wyoming (.25%), West Virginia (.26%) & Utah (.32%).
Overall, the Pacific Northwest corner of the United States ranks highest in number of yard sales per capita, while the Atlantic East Coast has the lowest number of sales.
"Each week tens of thousands of yard sale listings get posted to our network. The fact that Oregon was the top state surprised us all because we expected it to be one of the larger states, like Texas or California," notes Nate Denning, CTO of Treasure Listings.
U.S. States with the highest number of yard sales per capita:
1. Oregon
2. Idaho
3. Alaska
4. Colorado
5. Nevada
U.S. States with the lowest number of yard sales per capita:
1. Wyoming
2. West Virginia
3. Utah
4. District of Columbia
5. Mississippi
About Treasure Listings:
Treasure Listings is the largest network of yard, garage, and estate sale listings websites. The company is based out of Austin, Texas with satellite offices in Boise, Idaho and San Diego, California. Its network consists of seven yard, garage and estate sale websites aimed at helping customers locate and advertise sales across the United States and Canada.