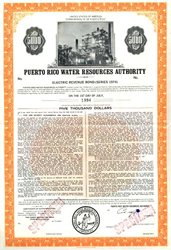 Old Historic Paper Stock and Bond Certificates Make Great Gifts
Fairfax, Virginia (PRWEB) March 10, 2016
Scripophily.com is offering beautifully engraved authentic specimen bond certificates from Puerto Rico. The certificates were printed by banknote companies and have ornate borders with different vignettes (images) with printed signatures of government officials. Although these certificates have no redeemable value, they are treasured by collectors around the world as historical artifacts.
Some of the bonds offered for sale on our website include the Commonwealth of Puerto Rico - $5,000 Public Improvement Bond - Puerto Rico 1971, Government Development Bank for Puerto Rico - Puerto Rico 1969, Government Development Bank Note for Puerto Rico - Puerto Rico 1970, Government Development Bank of Puerto Rico General Obligation Note - Puerto Rico 1967, Municipality of Bayamon Public Improvement Bond - Puerto Rico 1960, Municipality of Catano Public Improvement Bond - Puerto Rico 1960, Municipality of Manati - Puerto Rico 1960, Municipality of Penuelas Public Improvement Bond - Puerto Rico 1958, Municipality of Yauco Public Improvement Bond - Puerto Rico 1959, People of Puerto Rico Public Improvement Bond - Puerto Rico 1952, Puerto Rico Aqueduct $5000 Bond - Puerto Rico 1963, Puerto Rico Aqueduct and Sewer Authority Specimen Revenue Bond, Puerto Rico Industrial Development Company General Purpose Revenue Bond - Puerto Rico 1960's, Puerto Rico Water Resource Authority $5,000 Specimen Bond – 1974, Puerto Rico Water Resources Authority Electric Revenue Bond - Puerto Rico 1960's and many others.
The Puerto Rican debt crisis is a result of the amount of debt owed by the government amounting to more than $70 billion USD of outstanding debt, with a debt-to-GDP ratio of about 68%. American credit rating agencies downgraded the government's debt to non-investment grade. On August 3, 2015, Puerto Rico defaulted on a $58 million bond payment to the Public Financing Corporation, a subsidiary of the Government Development Bank.
Scripophily (scrip-ah-fil-ly) is the name of the hobby of collecting old stock and bond certificates. Certificate values range from a few dollars to more than $500,000 for the most unique and rare items. Tens of thousands of Scripophily buyers worldwide include casual collectors, corporate archives, business executives, museums and serious collectors.
Due to the computer age, more and more stock and bonds are issued electronically which means fewer paper certificates are being issued. As a result, demand for paper certificates is increasing while supply is decreasing.
Specimen Certificates are actual certificates that have never been issued. They were usually kept by the printers in their permanent archives as their only example of a particular certificate. Sometimes you will see a hand stamp on the certificate that says "Do not remove from file". Specimens were also used to show prospective clients different types of certificate designs that were available. Specimen certificates are usually much scarcer than issued certificates. In fact, many times they are the only way to get a certificate for a particular company because the issued certificates were redeemed and destroyed. In a few instances, Specimen certificates we made for a company but were never used because a different design was chosen by the company.
Scripophily.com - The Gift of History is the Internet's leading buyer and seller of collectible stock and bond certificates and have items on loan for display in the Smithsonian's Museum of Financial History in New York. Our company has been featured on CNBC, USA Today, Associated Press, Reuters, Nightline, Today Show, Baltimore Sun, and Washington Post and in many other media publications. The company also offers the World's #1 old stock research service at OldCompany.com and offers high resolution scans for publications. Scripophily.com has over 17,500 selections on its website.
Scripophily.com / Old Company Research Service, founding member of the Old Stock Exchange, is the successor company to all material published by the Marvyn Scudders Manuals, the Robert D. Fisher Manuals, R.M. Smythe Stock Research Service, and the Herzog & Co., Inc. obsolete research services. These services have been performed continuously for over 136 years since 1880.
Scripophily.com and Old Company Research Services was founded by Bob Kerstein (Bob.com). Bob is a CPA and CGMA, and has more than 39 years of senior management experience in the Cellular, Cable TV, Satellite, Internet, Professional Sports and Entertainment Industries. Bob is also the President of the Professional Scripophily Traders Association (PSTA).
For more information on Scripophily.com®, visit http://www.scripophily.com, http://www.oldcompany.com, http://www.scripophily.net, http://www.rambo.com, http://www.bob.com or call 1-703-787-3552.