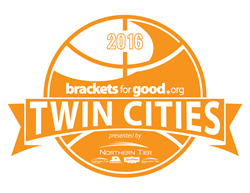 "Supporting Brackets For Good is a way for us to have an impact on a multitude of nonprofits in the Twin Cities," said Dave Lamp, President and CEO of Northern Tier. "We're grateful to be able to touch so many lives in such a fun way."
MINNEAPOLIS (PRWEB) March 11, 2016
Indianapolis-based Brackets For Good has partnered with Northern Tier and its Family of Companies, including St. Paul Park Refining Co., SuperAmerica and SuperMom's. Northern Tier will be the title sponsor for the inaugural bracket-style fundraising tournament in the Twin Cities.
Brackets For Good hosts online, single-elimination, bracket-style fundraising tournament in multiple cities that raises much-needed awareness and funds for nonprofit organizations of all sizes in each community. Nonprofits participate at no cost and retain 100% of the donations raised during the tournament, regardless of advancement. The tournament champion in each city will also receive a grand prize donation from the title sponsor. The tournament begins with 64 local charities, each paired in a competitive match-up against an opponent. Charities advance through the rounds by scoring more points than their opponent. Every $1 donated through bfg.org equals 1 point scored for the chosen charity. At the end of each round, the nonprofit with the most points in the individual match-up advances to the next round, the points are reset, and the fundraising continues until a champion is crowned. Since Brackets For Good's kickoff contest in 2012, it has raised more than $1.3 million for local charities.
Northern Tier is very active in supporting non-profit organizations throughout Minnesota. Northern Tier receives hundreds of requests for support each month from area nonprofits and unfortunately, cannot support them all. So, when Brackets For Good reached out to the company about bringing its online giving tournament to the Twin Cities, a move that will benefit 64 local charities all at once, Northern Tier stepped up as title sponsor.
What interested Northern Tier most about the organization's process is that, in competing to out-fundraise opponents, participating nonprofits earn increased exposure and keep 100 percent of donations received during tournament play.
As the tournament title sponsor, Northern Tier is able to bring that influx of support to nonprofits in the Twin Cities.
"Supporting Brackets For Good is a way for us to have an impact on a multitude of nonprofits in the Twin Cities," said Dave Lamp, President and CEO of Northern Tier. "We're grateful to be able to touch so many lives in such a fun way."
Brackets For Good anticipates success for its first tournament in the city.
"We're thrilled to be invited into such a philanthropic community that is truly pioneering online giving in many different ways," Brackets For Good co-founder Matt McIntyre said. "In its inaugural year in the tournament, the Twin Cities will be a competitor for the city raising the most money and attracting the most new donors for its nonprofits."
Tournament Details:
Brackets For Good Tournament

February 26, 2016 – April 1, 2016
Online at twincities.bfg.org
**NOTE: Registration for nonprofits interested in participating is now closed.**
How to Help:
Starting February 26, online donations to help your favorite nonprofit organization advance in Brackets For Good and get one step closer to $10,000 can be made by visiting twincities.bfg.org. $1 equals 1 point.
For more information, visit or http://twincities.bfg.org/.
About BRACKETS FOR GOOD
Brackets For Good is an Indianapolis, IN based 501(c)3 charitable organization focused on activating new donors, and increasing awareness for other nonprofit organizations through competitive, online fundraising at no cost.
About NORTHERN TIER
Northern Tier Energy LP (NYSE: NTI) is an independent downstream energy company with refining, retail and logistics operations that serves the PADD II region of the United States. Northern Tier operates a 97,800 barrels per stream day refinery located in St. Paul Park, Minnesota. Northern Tier also operates approximately 168 convenience stores and supports approximately 109 franchised convenience stores, primarily in Minnesota and Wisconsin, under the SuperAmerica trademark, and a bakery and commissary under the SuperMom's brand. Northern Tier is headquartered in Tempe, Arizona.
More information about Northern Tier is available at http://www.northerntier.com.
# # #
Media contact:
Jaymie Shook
317.602.7137 ext. 2066
jshook(at)bohlsengroup.com