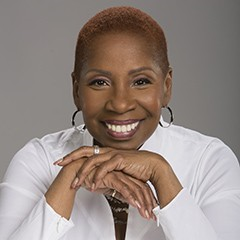 Atlanta, Georgia (PRWEB) March 10, 2016
Iyanla Vanzant, best-selling author, inspirational speaker and and host of the hit reality show "Iyanla: Fix My Life," and Dr. David Satcher, former U.S. surgeon general, will be the keynote speakers at the Seventh Biennial Cultural Competency Conference at Georgia State University, April 7-8.
The theme of the conference, to be held in Georgia State's Student Center East, is "Cultivating a Culture of Health: Clinical and Community Innovations." Speakers will focus on building skills in culturally competent mental and physical healthcare and creating opportunities for health equity and optimal wellbeing in diverse populations.
"Georgia State University has a long and proud history of training change-makers," said Dr. Jill Lee-Barber, director of psychological and health services at Georgia State. "I am thrilled to welcome keynote speakers to the 2016 Cultural Competency Conference, Dr. David Satcher and Iyanla Vanzant, who will offer innovative and engaging perspectives on how we, students, clinicians and educators can make change in the area of mental and physical health equity." 
Vanzant, the author of five New York Times bestselling books, appears regularly on stage, radio and television, delivering a message of self-empowerment. Vanzant is a regular guest expert on the Oprah Winfrey Show, and Vanzant's show "Iyanla: Fix My Life" is the number one reality program on the OWN Network, produced by Winfrey's Harpo Studios.
As the 16th surgeon general of the United States from 1998 to 2002, Satcher focused his attention on healthy lifestyles and the elimination of health disparities as national public health issues. He is the founding director and senior adviser of The Satcher Health Leadership Institute, which was established at the Morehouse School of Medicine in 2006. The Institute seeks to develop a diverse group of public health leaders, foster and support leadership strategies, and influence policies toward the reduction and elimination of disparities in health.
The conference welcomes mental and physical health providers who seek greater skill in providing cultural competency services. Participants can obtain continuing education credits for Licensed Professional Counselors, Licensed Clinical Social Workers and psychologists.
Registration is $300 for professionals and $100 for students. For a list of speakers or to register, visit counselingcenter.gsu.edu/cc/. Group rates are available.