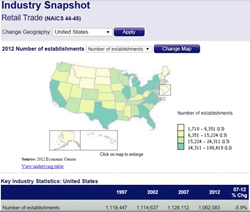 Therefore, a more practical way to look at the market opportunity is by looking first at the retail bricks and mortar landscape itself - the businesses which one day might use digital signage technology.
Charlottetown, PE (PRWEB) March 10, 2016
ScreenScape Networks Inc., a leading provider of digital signage solutions, has recently published a unique approach to quantifying the size of the digital signage market. According to ScreenScape, anyone looking to quantify a particular market for digital signage solutions can begin with the physical locations in a particular geographic zone and build up from there towards an estimate of the total addressable market. Their study is reprinted here in brief.
Digital signage at its roots, is inextricably linked to, and can be grounded in, real world business networks and the physical locations that cater to the visiting public. Therefore, a more practical way to look at the market opportunity is by looking first at the retail bricks and mortar landscape itself - the businesses which one day might use digital signage technology.
Every business on the planet that has a physical venue, or that has a retail partner with a venue, is part of the addressable market for digital signage solutions.
The key questions in this model are as follows:
How many venues are there in any given market that might one day use digital signage?
What is a reasonable estimate of the average revenue per year that one of these venues will generate?
Based on Government census data, here's the model using the Canadian and US markets.
Retail Establishments
The US census of 2012 counted 1,063,000 retail establishments in the United States.
In 2011, using Statistics Canada data, the Retail Council of Canada counted 190,100 retail stores in Canada.
USA stores: 1,063,000
Canada stores: 190,100
Total number of retail stores: 1,253,100
An estimate for the average revenue one of these average venues might represent to their preferred supplier is needed. For the sake of argument ScreenScape uses $40 USD, the monthly subscriber fee, or $480 USD annually.
Avg revenue per customer per month: $40
Revenue opportunity, Retail, North America (monthly): $50,124,000
Additional Place-based media Venues
In addition to retail venues there are many public places that make for ideal locations for the use of place-based media solutions. These range from hospitals to health clinics, universities to fitness centres, and hotels to golf courses. The US census of 2011 counted 6,588,336 public establishments in total. As a rule of thumb, on average, for every retail store there are five non-retail establishments.
Avg revenue per customer per month: $40
Revenue opportunity, All Venues, North America (monthly): $263,533,440
The average revenue per customer that any given vendor might generate through one customer relationship naturally depends on a host of factors. $40 per month might seem rather low when considering some of the more sophisticated requirements of an expensive digital signage project. It really depends on the nature of any given vendor's product line, whether they are a full service provider or they prefer to focus on one part of the total solution. It depends on pricing, on the nature of their particular target market, and so on. However, roughly speaking this model does well to describe the total market for digital signage solutions over time, - as well as any forecast to date.
"Naturally, the best method for estimating the market opportunity for digital signage is likely this bricks and mortar method PLUS a thorough analysis, triangulation, and normalization of all similar, credible approaches, including industry forecasts," stated Mark Hemphill, CEO and Founder of ScreenScape Networks Inc. "How do the different approaches compare? What do the results say? Do they offer up a market value range that is consistent across them all? If it's possible to accurately measure the size of the market, the value range that is common to a variety of approaches is likely your best bet."
Towards an Internet of Screens
"We should stress that the broader, longer term market opportunity of place-based media & marketing, is actually much bigger that we've suggested here. The first phase of the market opportunity is in building out the infrastructure, the plumbing if you like, of digital signage. This is the market that us vendors are competing for in 2016, the sale of new software and hardware solutions, and that's why we've focused on it here," continued Hemphill.
A true Internet of Screens is certainly coming. The traffic that travels over and through the global digital signage infrastructure will evolve. Just like the World Wide Web it will become more sophisticated and begin to offer new and exciting marketing opportunities.
Therefore a secondary longer-term market opportunity exists, beyond the sourcing of the software and hardware infrastructure, in the metered flow of content and in the growth of advertising services that have been enabled by digital signage systems. The leading providers of digital signage technology solutions, measured in usage fees or subscriptions, will find themselves in a unique position to become the leading provider of place-based marketing services leading to new business streams that are based on transaction or brokerage fees. A very early incarnation of that market can be seen in outdoor digital media and what, today, is commonly referred to as Digital-Out-of-Home (DOOH) marketing.
About ScreenScape Networks Inc.
ScreenScape makes software that helps businesses connect and control screens over the Internet. Using a simple plug and play device, ScreenScape customers can turn any screen into a connected digital sign. Once a screen is connected it can be updated, monitored and managed over the Internet using ScreenScape.com.
Brand marketers and retail networks use the technology to publish digital signage content on screens inside their stores. Health clinics, university campuses and other kinds of venues use it to engage and entertain their visitors. It's part of a growing technology arena called place-based media that is rapidly turning TV screens outside the home into location-specific media channels.