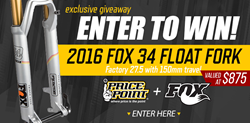 "The first time a rider jumps on a bike equipped with a FOX 34, one says "Wow!" immediately"
(PRWEB) March 10, 2016
Price Point one of America's leading online cycling retailers is currently offering two giveaways for cycling gear. Currently being offered are five Avana mountain bike helmets. The helmets are valued at $140. There are two ways to enter, an entrant can simply complete the entry form found on Facebook https://www.facebook.com/pricepoint/. For those that don't use Facebook, leaving a review on the website for any item purchased or used also garners an entry. Price Point does ask that the customer has used the product and that the review be kept PG-13 so it is appropriate to post on the site.
Concurrently Price Point is also offering 2016 Fox 34 Float Forks, valued at $875. These forks are specifically for a 27.5 inch wheel set and offer 150mm of travel. Francis Cebedo Founder of MTBR says, "The first time a rider jumps on a bike equipped with a FOX 34, one says "Wow!" immediately. It is more supple, controlled and quiet on the trail. The fork is quiet, both in terms of hand vibrations and stutter and braking bumps. It handles them all in stride and calms them down while responding quickly to the next one". These are highly desirable forks and entrants can get one step closer to owning them simply by filling out the entry form on the MTBR website using this link http://reviews.mtbr.com/pricepoints-fox-34-float-fork-giveaway-contest. Additionally anyone that follows Price Point on twitter during the contest or tweets about it will also receive an additional entry.
The Avana helmet giveaway runs from March 1st to March 14th 2016. The Fox 34 Float Fork giveaway began February 15th and ends March 17th. Both contest require no purchase to enter and are open to U.S. and Canadian residents only. Entrants must be at least 18 years of age and provide valid contact information. To keep up to date with future Price Point giveaways visit Price Point at http://www.pricepoint.com.