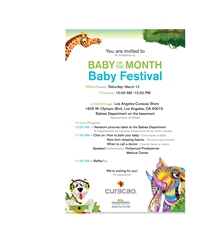 "Families will get at no charge their baby picture at the event", said Ruth Garcia-Corrales, program developer and Curacao's Community Affairs Manager
Los Angeles, California (PRWEB) March 11, 2016
Curacao has partnered with Hollywood Presbyterian Medical Center for a year of educational programs for new moms and moms-to-be. Each month, representatives from Hollywood Presbyterian will lead demonstrations and Q and A sessions on baby care. "This is a great outreach program for us at Hollywood Presbyterian. To be able to connect with the community at this level is a great social commitment that we are happy to continue, said Hank Lee, vice president of Operations, Support and Special Projects.
The March class, "Baby's First Bath, New Born Sleeping Basics and When to Call the Doctor" covers the basics like how and how often to bathe a baby, the best time for a bath and which products to use. In addition to sleeping tips and ways to observe your child's health everyone will have the chance to ask questions. Class attendees will have the opportunity for a hands-on demonstration with a doll.
"The topics for Newborn Sleeping Basics and When to Call the Doctor are essential for families. We want mothers to find answers to common questions at Curacao, with help from experts through our local hospital," said Ruth Garcia-Corrales, program developer and Curacao's Community Affairs Manager.
The March event will be held Saturday, March 12 from 10 a.m. to noon at Curacao's Los Angeles Store, 1605 West Olympic Blvd. Los Angeles, CA 90015.
# # #
About Curacao
Curacao is one of the leaders in the retail industry market; its chain of department stores is included consistently among the top 50 electronics and appliance stores in the United States. Each of its 11 stores located in California and Arizona are an average of 100 thousands square feet and offer a wide range of products, services and proprietary credit. Curacao has been well known for gaining consumers by innovating marketing tendencies for three decades. Founded in 1981, headquarter is based in its main store in downtown Los Angeles. For more information visit: http://www.icuracao.com.
Media Contact: Ruth Garcia-Corrales, ruthg(at)icuracao(dot)com