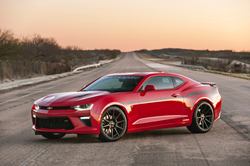 Take your choice of 2016 Camaro SS, Mustang GT and Hellcat Challenger, and we can upgrade all of them to performance levels that meet or exceed some of the fastest exotics from Europe.
Uvalde, Texas (PRWEB) March 09, 2016
On Thursday, February 25, 2016, professional driver, Brian Smith, drove the 751 horsepower Hennessey Camaro SS to a top speed of 202.1 mph. In the process, Hennessey's Chevy became the first 2016 Camaro SS to break the 200 mph mark.
The run was made on the 8.5-mile high-speed oval at the Continental Tire Proving Grounds located in Uvalde, Texas. This is the same test track where the Hennessey team ran their HPE750 Supercharged Mustang to over 200 mph with Jay Leno's Garage in 2015. During both tests, speeds were validated with Racelogic's VBox 3i GPS data logging system.
"We are an equal opportunity performance business", said president and company founder, John Hennessey. "Last year we built and tested one of our specially-prepared Ford Mustangs to over 200 mph. So it just seemed natural to take the latest Gen 6 Camaro SS and try to push the boundaries of performance. In this case, we felt like breaking 200 mph would be a great way to validate our 2016 Camaro SS performance upgrade program.
The team from Hennessey Performance (HPE) increased the factory LT1 V8 engine from 455 bhp to over 750 bhp by the tried and true method of increasing airflow through the engine. Starting with their HPE600 naturally-aspirated engine upgrade, the Hennessey Camaro benefited from CNC ported cylinder heads, camshaft and valvetrain upgrades,
Kooks 1 7/8 inch long-tube stainless steel headers with high-flow catalytic converters, high-flow intake manifold, engine management recalibration and chassis dyno tuning. The resulting power increased to 605 bhp at 6,500 rpm. A nitrous-oxide kit from Nitrous Outlet was added to increase power by another 146 bhp. The net combination provided 751 bhp at the engine which equated to 649 rear wheel hp on the HPE Dynojet chassis dyno.
Additional modifications included a lowered suspension system from GM Performance Parts which works in conjunction with the factory magnetic-ride suspension and lightweight 20-inch Hennessey H10 wheels (20x9.5 in. front & 20x10.5 in. rear) shod with Continental ContiSportContact 5P tires (255/ZR40-20 front and 295/ZR35-20 rear) combined to keep the Hennessey Camaro planted to the ground at 200+ mph.
Hennessey Performance also now offers their HPE750 Supercharged engine upgrade which delivers the same power level without needing to re-fill nitrous bottles. Both packages are currently available from HPE and production is limited to just 100 units of each for the 2016 model year. The 2016 HPE750 Supercharged Camaro SS can also be ordered from authorized Hennessey Chevrolet dealers, including Parkway Chevrolet located in Tomball, Texas.
"We are so excited about the incredible performance vehicles that are being built in America today", said Hennessey. "Take your choice of 2016 Camaro SS, Mustang GT and Hellcat Challenger, and we can upgrade all of them to performance levels that meet or exceed some of the fastest exotics from Europe."
2016 HPE750 Supercharged Camaro SS
Power *

751 bhp @ 6,500 rpm
643 lb-ft torque @ 3,800 rpm
Performance **

0-60 mph: 3.1 sec.
1/4 mile: 10.7 sec. @ 129 mph
Top speed: 202 mph
Includes:

TVS2300 supercharger system running 7 psi boost.
1.75-inch stainless steel long-tube headers.
Stainless steel mid-pipe exhaust upgrade.
High-flow catalytic converters.
CNC Ported Cylinder Heads ports- Competition valve job, extensive flow testing, chambers milled to desired cc.
Lightweight hollow stem intake valves, exhaust valves.
Extreme duty dual valve springs.
Titanium retainers, machined locators & locks, GM valve seals.
Chamber volumes measures & adjusted for compression.
CNC work hand blended into valve job, spring pressures measured & adjusted for camshaft.
HPE hydraulic roller camshaft upgrade.
Hydraulic lifter upgrade.
Extreme duty pushrod upgrade.
HPE engine management upgrade & chassis dyno calibration.
Professional installation
All necessary gaskets & fluids.
Chassis dyno testing. You'll receive a before & after dyno graph report showing power and torque measured at the rear wheels.
Road testing (up to 100 miles).
Hennessey exterior badge (rear).
HPE750 Powered by Hennessey badges (side & rear).
Supercharged badges on hood.
Hennessey HPE750 serial numbered plaque signed by John Hennessey (interior).
Hennessey HPE750 serial numbered plaque signed by the HPE technician who builds you car (engine bay).
Powered by Hennessey premium floor mats.
Serial numbered Certificate of Authenticity personally signed by John Hennessey.
Free lifetime membership in the official Hennessey Vehicle Registry (HVR).
3 Year / 36,000 mile limited warranty.
Shell V-Power 93 octane gasoline.
Pennzoil Ultra Platinum synthetic oil & filter change.
Optional Upgrades

GM Performance Parts lowed suspension
Hennessey H10 20-inch wheels
ContiSportContact Tires
Total price as tested
$74,950
Just 100 units of the HPE750 will be produced for the 2016 Camaro SS model year. Pricing starts at $63,950 USD including the base 2016 Chevrolet Camaro SS with 1SS package.